Mar 13, 2022
Happy St Patrick's Day with an extra long episode. Jon Pilatzke shares some stories about the late Paddy Maloney of The Chieftains. The Muckers wrote a song on a Flogging Molly cruise. Guilty pleasures come in many shapes. What's mine? I'll give you a hint. It comes in plaid. The Lost Druid Brewery will tell you why they have so many beers to choose from. Climate change is real. But is it too late? Atlanta Irish Dance by Burke & Connolly will tell you about the different types of Irish dance.
It's on Pub Songs & Stories #251.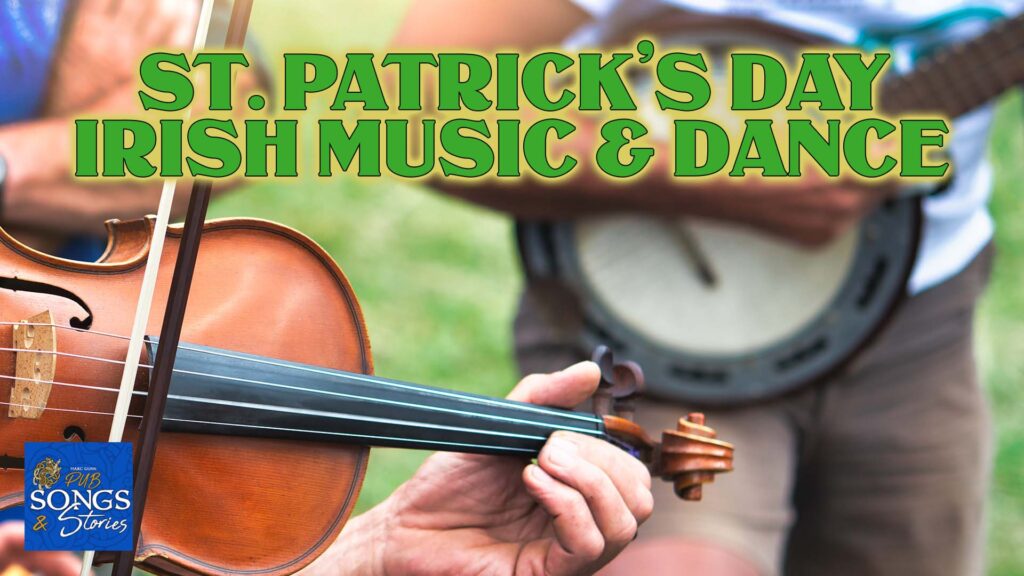 WHO'S PLAYING IN THE PUB TODAY
Welcome to Pub Songs & Stories. This is the Virtual Public House to share stories and inspiration behind music with your host Marc Gunn. Subscribe to the podcast and download free music at PubSong.com.
0:47 - WHAT'S NEW?
If you're new to the pub songs podcast, subscribe.
Donations to Celtic Non-profits over $45,000
Today's show is brought to you by my Gunn Runners on Patreon. Special thanks to Not Higgins, C.J. Taylor, Sarah Crockett, Bill Mandeville, William McKissack, Brian Morin, Carol Baril, Kurt Goodyear, Miranda Nelson, Jan Czenkusch, Luke Miller, Josh Brown, LauraMay Sorkin, James ODell, Eric Ray, Tim M. O'Brien
What new patreon content was added?
What are you doing while listening to Pub Songs & Stories? I'd love your thoughts and feedback. So take a picture of yourself or where you are or what one of these stories reminds you of. Post it on social media. Use the hashtag #pubstories so I can find it and share your story.
If you need a guest on your podcast…
What song would you like to hear more about?
4:01 - The Carroll Sisters "Reels for Three Brothers" from Daybreak
8:38 - NEW TO IRISH & CELTIC MUSIC: BEST OF 2022 PLAYLIST
There's a lot of great new music added to our Best of 2022 playlist on Spotify and Amazon Music.
The Carroll Sisters
Poitin Band
Kilmaine Saints
The Rogues
Listen to the playlists on Spotify or Amazon Music.
9:05 - UPCOMING SHOWS
9:27 - "Whiskey Is Calling" by Kilmaine Saints from Drunken Redemption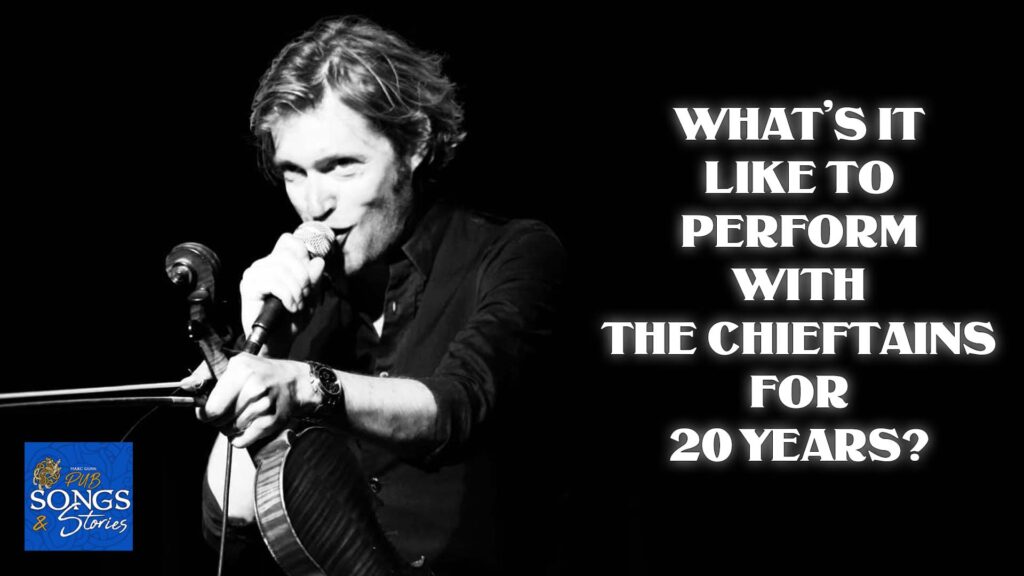 12:32 - STORY OF PLAYING MUSIC WITH PADDY MALONEY FOR 20 YEARS
Paddy Maloney was the co-founder of The Chieftains. They were called Ireland's Musical Ambassadors. The Irish music world mourned last October in 2021 when Paddy passed away.
I posted my own sorrows for his passing on the Irish & Celtic Music Podcast Facebook page. Jon Pilatzke responded. Jon is a fiddler and an Irish dancer. He played music with The Chieftains for 20 years. I asked him to submit music to the podcast.
I asked Jon if he might be able to share a story or two about playing music with Paddy. He humbly shared this inspiring story of a Celtic music legend.
21:48 - Jon Pilatzke "The Canadian Set: Fisher's Hornpipe / Cotillon d'Avila LeBlanc / Reel du Forgeron (The Blacksmith's Reel)" from Amongst Friends
25:48 - STORY OF QUEEN OF THE PIT
I was performing at Tucker Brewing Company at the beginning of last year, when who did I see in the audience, drinking a pint, Jeff Shaw of The Muckers.
I first connected with Jeff a number of years back when he too was living in New Orleans. We both had an early introduction to Celtic music through an album of Irish drinking songs. But it wasn't until Atlanta that I finally met him. And I was really surprised to see him in my audience.
At that time, I was trying to find artists to collaborate with on my album Selcouth. One song stood out. That was "Kilty Pleasure". I'll talk more about it in a moment. But I emailed him the next day and asked if The Muckers might be interested in collaborating. And I'm so happy they agreed.
There aren't many Celtic bands in Atlanta that are making a splash. But The Muckers, they are definitely the go to band. They sound amazing. But I'm sure it also helps that they are a Celtic Punk band. That's probably why they were on a cruise with the Celtic Punk icons, Flogging Molly, as Jeff will explain.
29:49 - "Queen of the Pit" by The Muckers from Irish Goodbye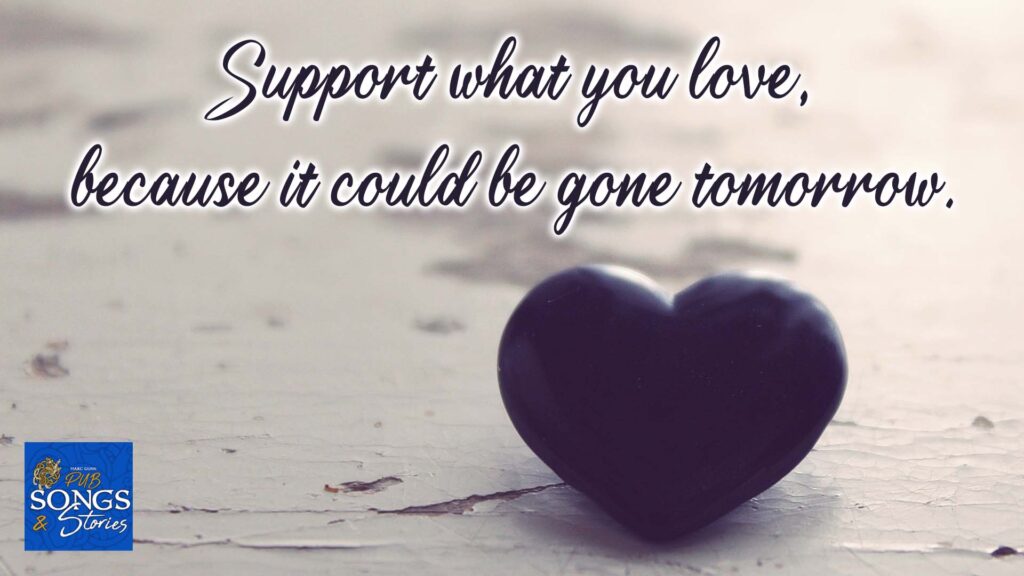 33:30 - SUPPORT WHAT YOU LOVE
The musicians on this podcast are happy to share their music freely with you. You can find their music on streaming music sites. But streaming is a way to sample the music. If you hear something you love, these artists need your support.
Please visit their website, sign up to their mailing list and buy something. You could buy digital downloads, a shirt, a sticker, a pin, a songbook, jewelry, or even the classic physical CD. Your purchase allows them to keep making music. And if you're not into the physical stuff, many artists accept tips or are on Patreon. So please support the arts.
If this show made you happy, then you can also join the Gunn Runners Club on Patreon. Your support pays for the production and promotion of my music and this podcast. If you have questions or comments, drop me an email. Save 15% with an annual membership.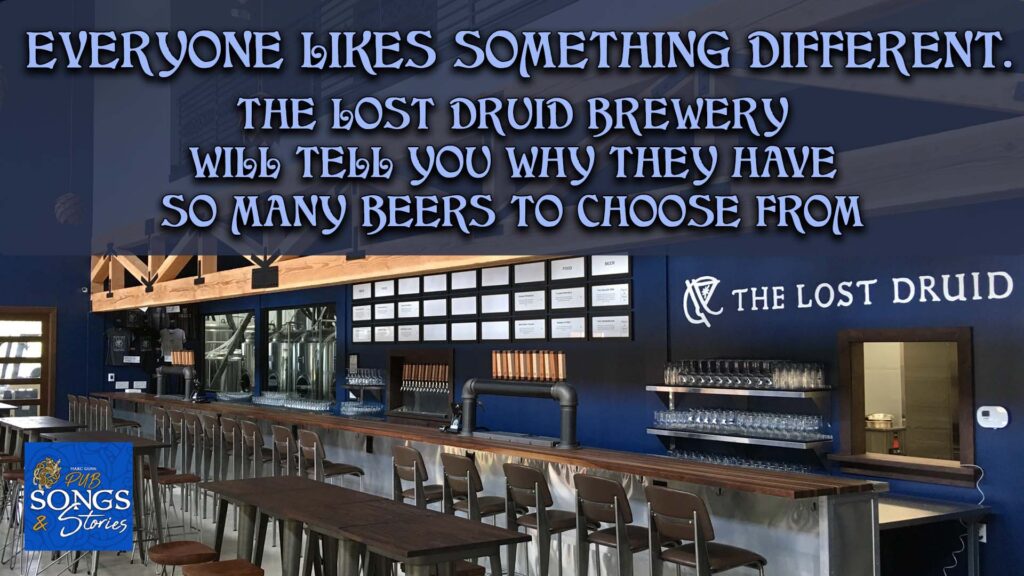 34:16 - FINDING BEERS WE CAN ALL CAN ENJOY
Have you ever been to the Cheesecake Factory? I like the place okay. But I'll be honest. I get a bit overwhelmed. They have a 10 page menu with SO MANY items. I can see why it's so popular. There's something for everyone there. I can find something fun and so can my picky kids.
In some ways, The Lost Druid Brewery in Avondale Estates, GA outside of Atlanta reminds of the Cheesecake Factory. They have SO many beers to choose from. There's something for everyone.
In fact, the head brewmaster, Rob, will tell you a story about why they have so many beers to choose from.
36:29 - GIVING BACK
Next Stacia will tell you how the brewery gives back to their community.
Speaking of giving back…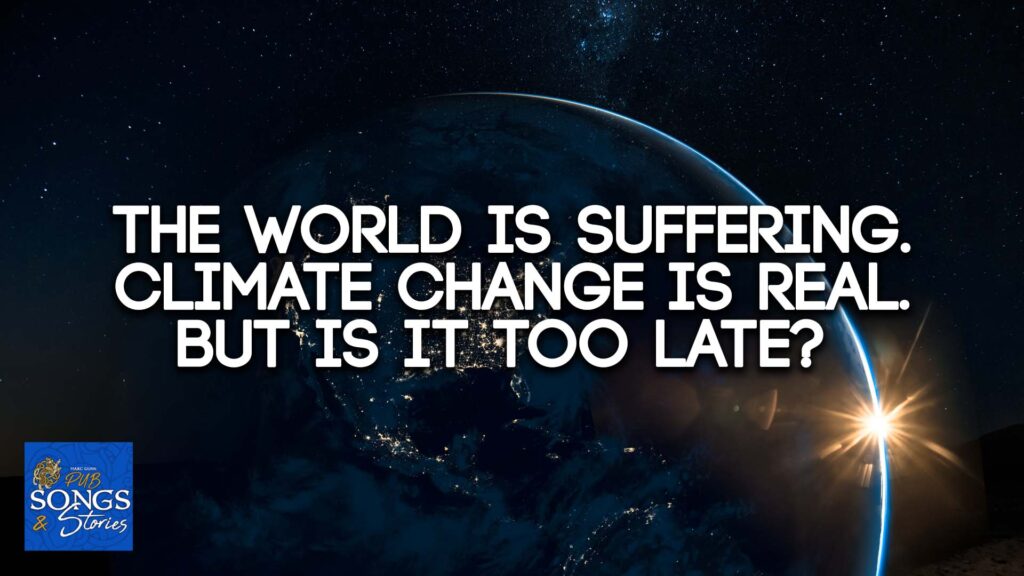 39:19 - WHAT IS THE CARBON ALMANAC?
I was listening to Seth Godin's Akimbo podcast a few weeks back when he announced a new project–The Carbon Almanac.
It piqued my interest. I am extremely concerned about the impact we are making on our environment. Not as much for my sake, but for kids and their kids. What kind of world do I want to leave behind?
We are causing major damage to our planet and atmosphere. It will affect everyone some day. But the good news is that we can make a difference. We can make positive change. Not just as individuals but as a community.
The Carbon Almanac at its base is a book. It's a book about how we can affect change on our planet. But it's also a book designed to start discussing how we can make change together.
If you too are concerned about Climate Change, I want to invite you to check out the Carbon Almanac website to get involved. Or at the very least, you can pre-order the book like I did for when it comes out in June.
Order the Carbon Almanac now or check out the webpage at thecarbonalmanac.org .
40:48 - "Heart of Fangorn" by Brobdingnagian Bards from Memories of Middle Earth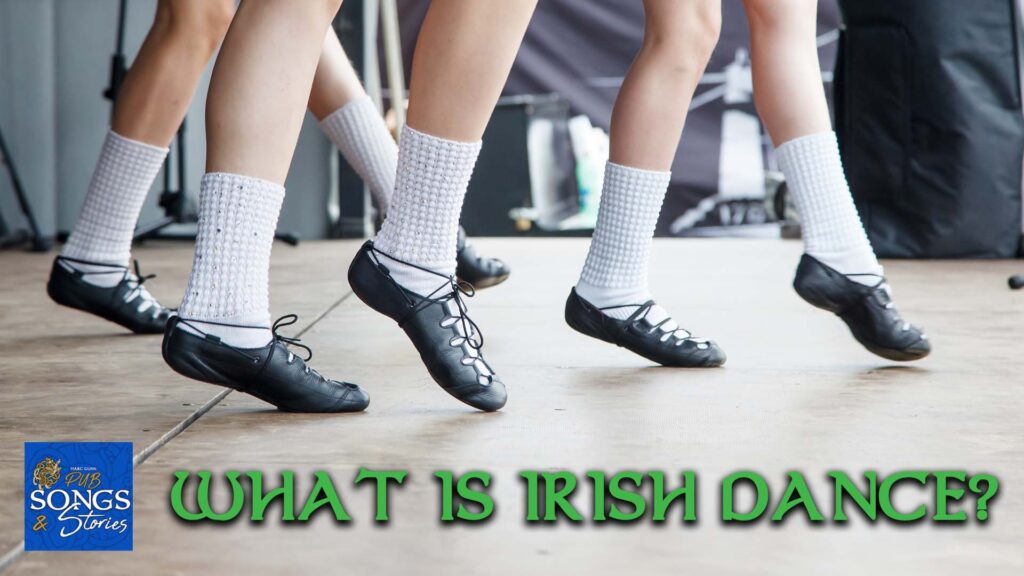 44:09 - WHAT IS IRISH DANCE?
I've played Celtic music for over twenty years. I remember how Riverdance was all the rage when I started playing Celtic music, I never quite understood it. I am a singer. I've fallen in love with the traditional tunes. But I'll be honest, I don't know much about Irish dance.
My daughter Inara loves to dance. We started her on ballet a year before the pandemic started. She quickly found it slow and boring. She has a lot of energy. So a year ago, we signed her up with Atlanta Irish Dance by Burke Connolly. She connected with it instantly.
I wanted to find out more about Irish dance. So I contacted Emma Burke, one of the co-founders of the school. Emma is a certified Irish dance teacher and internationally certified Irish dance adjudicator, which allows her to judge Irish dance competitions world wide. During her Irish dancing career, Emma competed all over the world, winning titles throughout.
Atlanta Irish Dance is the Premiere Irish Dance Academy in Georgia and one of the top Irish Dance Companies in the United States. They have an exciting performance based program run through their 501c3, in which they produce lively crowd-pleasing performances for crowds across Atlanta. Their dancers and teams are ranked 1st in the Region, 2nd in North America, and among the top 10 in the World.
So what is Irish dance? I'll let Emma Burke tell you more about it.
You can find out more about Atlanta Irish dance at http://www.burkeconnolly.com
They welcome dancers as young as 3 up to Adults into their program. They train every dancer with innovative and engaging teaching techniques that inspire each student to become their best. I attended a Father & Me Valentine's Day class with Inara. It was fantastic. Exhausting, but fantastic.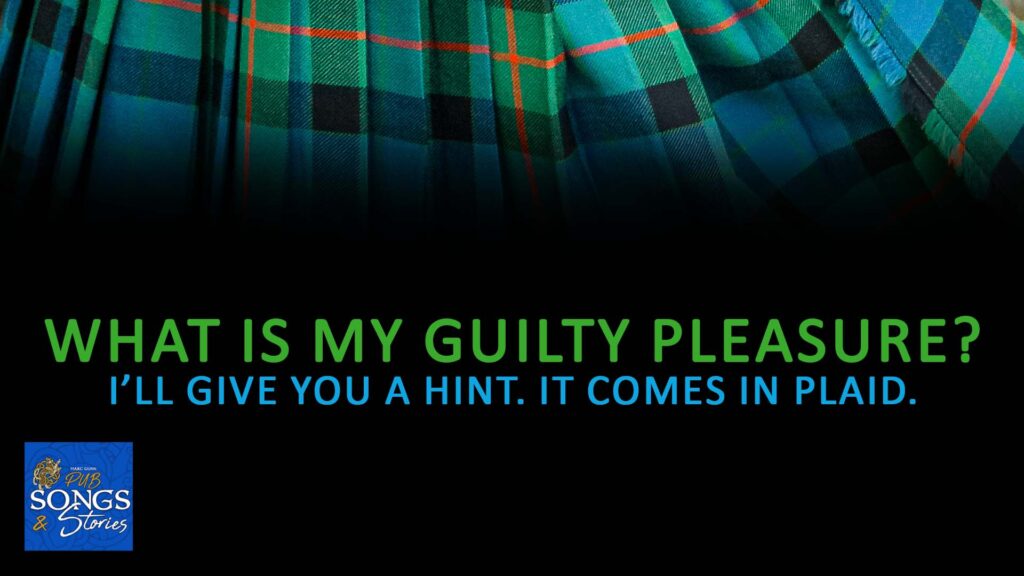 52:10 - STORY OF KILTY PLEASURE
I love my kilt. I don't wear it as much as I used to when I wrote my song "Kilted For Her Pleasure". It's become a bit of a guilty pleasure. It's largely something I wear when I'm going to a show or an event.
I love it for many different reasons. Obviously, I love it becomes of Scottish heritage. Gunn is one of the clans of Scotland. That old Scotland map shows the Gunn land just Northwest of Inverness. But when I wrote the song, I realized there are other reasons.
You see, the album is called Selcouth. That means, "when everything is strange and different yet you find it marvelous anyway."
That word sort of encapsulates my life. Yes, there was a time in high school when I just wanted to fit in. But when I got to college, I realized that I would never fit. I was just different. It wasn't good or bad. It was just different. And we are all a little different. We are all unique. That is a great thing.
America is a cultural melting pot. It's not just white Americans. People from around the globe have immigrated to our country, just like my family did 150 years ago.
I love traditional Irish music. But 15 years ago, a trad musician sat me down to tell me I wasn't playing Celtic music. I didn't fit the mold. He was right. But that didn't make my music any less Celtic. I believe in inclusion. Not exclusion.
I'll be honest. The racism that our last president ignited and promoted was a big reason for this song. I was afraid that my people, the Scots and Irish of the South, were a part of that bigotry.
So I wanted a song that waived a banner of what it truly is to be Scots-Irish in America.
Our groups were once oppressed by the majority. Now we are a big part of America. And I believe it is time to realize we don't have to oppress other minority groups to stand out. We can all be strong and proud of our unique heritages and embrace all of our differences.
That's what the kilt says to me. It's a sign that I am a true American, and I am Celtic forever. And I love and respect you and your heritage, whatever it is.
55:15 - "Kilty Pleasure" by Marc Gunn & The Muckers from Selcouth
If you enjoyed that song, I really would greatly appreciate it if you would buy the album.
59:28 - NEXT TIME
We have some comedic Celtic music and stories, just in time for April Fool's Day with Dublin Abbey.
Pub Songs & Stories was produced by Marc Gunn. The show is edited by Mitchell Petersen with graphics by Miranda Nelson Designs. You can subscribe and listen wherever you find podcasts. You can also subscribe to my mailing list. You will get regular updates of new music, podcasts, special offers, and you'll get 21 songs for free. Welcome to the pub at www.pubsong.com!
#pubstories #thechieftains #floggingmolly