Jan 5, 2021
St Patrick's Day comes early. Kilkelly, Ireland as a single. Johnny Jump Up as a folk song and as a Celtic rock song by Tuatha de Danann. Find out how you can get a FREE St Patrick's Day music.
Welcome to the Pub Songs & Stories, the Virtual Public House for Celtic culture through music with a geeky twist. I am your Guide. My name is Marc Gunn. Today's show is brought to you by my Gunn Runners on Patreon. Subscribe to the podcast and download free music when you sign up at PubSong.com.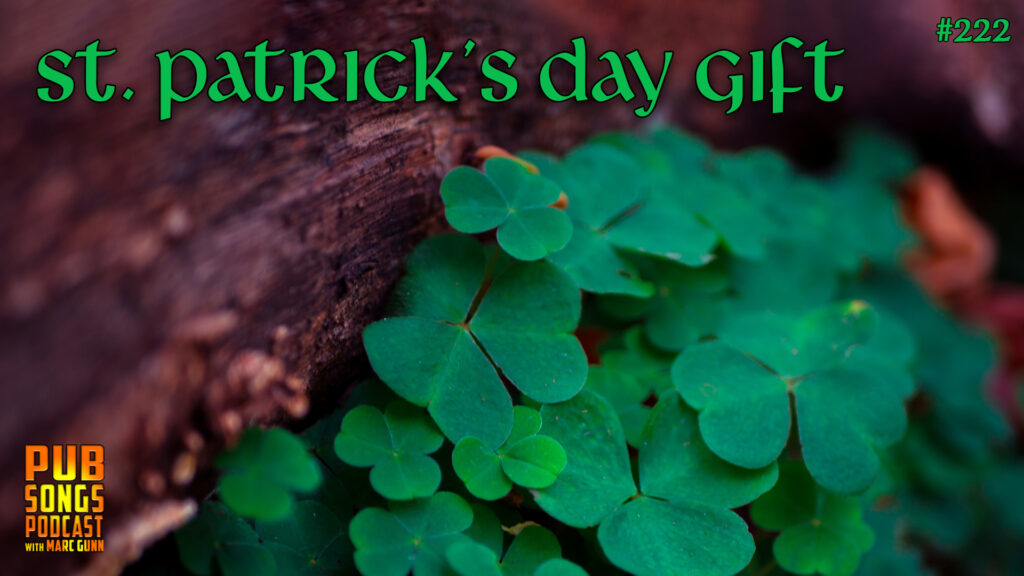 WHO'S PLAYING IN THE PUB TODAY
0:27 - CELTIC SONG: "Kilkelly, Ireland" from St Patrick's Day
4:36 - WELCOME STORY
-- A short story of what's new with The Celtfather. About st Patrick's day. Cd only available in February and March. Morehead Kentucky
-- Send an email (listen for details). I'll send you 3 MP3s from the St Patrick's Day album.
-- Post a review in Apple Podcasts. If you enjoy this show, please subscribe or post a review on Apple Podcasts. I'd love your feedback.
8:38 - COMEDY SONG: "Johnny Jump Up" from Happy Songs of Death
12:10 - SPOTLIGHT: Tuatha de Danann
Bruno Maia is the lead singer and front man for the Celtic Metal band Tuatha de Danann, out of Brazil. A few months ago, I got an email from Bruno asking me if I would like to sing on their version of Johnny Jump Up. It sounded like fun. Then he sent me a demo of the song. I was floored. It was THAT GOOD. I got really excited about being a part of this project. So I quickly recorded my parts and it sound good with them.
So today, I'm happy to welcome Bruno Maia to Pub Songs & Stories.
When did you start playing Celtic music?
Why Celtic rock or Celtic metal? is that a big thing in Brazil?
Where did you first hear Johnny jump up? And how did your version come to be?
Why did you want me on the song?
You just released a brand new album. What's it called and could you Name me one track that people should definitely hear to better understand your band, not including our song together which they will hear in a moment.
One final question. Imagine for a moment that this was the album that turned you into a worldwide sensation. Share with me your dream? What would you like to see happen? What would you do?
You can find out more about Tuatha de Danann at http://www.tuathadedanann.art.br/
And now I'm pleased to share their version of "Johnny Jump Up". The song is now on streaming and downloadable on all major platforms.
21:33 - SPOTLIGHT SONG: "The Devil Drink Cider" by Tuatha de Danann from In Nomine Éireann
TRAVEL WITH CELTIC INVASION VACATIONS.
Every year, I take a small group of Celtic music fans on the relaxing adventure of a lifetime. We don't see everything. Instead, we stay in one area. We get to know the region through its culture, history, and legends. You can join us with an auditory and visual adventure through podcasts and videos. We're going to Scotland in 2021. Join the invasion at http://celticinvasion.com/
-- New Irish & Celtic Song Lyrics. I updated the lyrics for all of the songs I sing in this show. You will find lyrics and chords so you can play along with me. Just click the song title to find the lyrics or follow the link in the shownotes to find more Irish & Celtic song lyrics.
UPCOMING SHOWS
THURS: Coffee with The Celtfather on YouTube @ 12:00 PM Eastern
JAN 15: Tucker Brewing Company in Tucker, GA @ 4:30 - 7:30 PM ET
JAN 21: Celtfather Live on YouTube @ 8:00 - 9 PM EDT. Tickets $8.
JAN 23: Ironshield Brewing in Lawrenceville, GA @ 7:00 – 10:00 PM.
PUB CHAT
What are people saying about St Patrick's Day by Marc Gunn? You can listen to the album for free in my Mage Records store on Bandcamp. Then email me marc@marcgunn.com or Chat in the Celtic Geeks group on Facebook to let me know what you think of the album.
Rattyboy says on Amazon said: "5.0 out of 5 stars WONDERFUL Traditional Celtic Music. This CD is a beautiful compilation of Celtic music! Absolutely a wonderful album done very professionally. The autoharp combined with Marc's voice on the album and his accompaniment (voices, instruments, etc.) is divine to listen to. My suggestion is to buy the CD so you don't lose these gems. A very, VERY well done CD that I have actually listened to several times already. Simply wonderful."
Copenhaver Reviewed on Amazon: "...this is a Greatest Hits collection. Marc is a dynamic performer and this is a good compilation of Irish songs like "Rocky Road to Dublin," "Old Dun Cow," and more. You should certainly try to see him live."
John White reviewed on Amazon on May 28, 2013: "Another great album from the Celtfather. Many classics, reinterpreted in a way that only Marc Gunn can perform them. If you've liked his previous stuff, you'll love this one as well (I do). If you don't like this stuff...well, go drink 3-4 pints of Guinness, then come back and listen again; you'll love him for sure, then!"
River Godbee said on February 12, 2013: "I think this should have been called "Marc Gunn's Greatest Hits"."
Brazell on June 8, 2013: "Another great album from Marc Gunn. The Celtfather presents a wonderful collection of music that will speak to the Celt in all of us."
In response to my "Will It Resonate?" I got these responses:
Allan Marcotte wrote: "Marc, Yes I bought "Not Everyday is St Patrick's Day" and I love it. It has one of my favorite songs on it "Kilkelly Ireland". I think it has a great mix of songs on it, including some good rebel songs.
I hope you and your family are well. Keep up the good work and great music!"
Renae Jackson emailed: "I was listening to one of your CDs today. On the way to my father's memorial. Thank you for the music you make. I'm not Irish or even close, but I love the Celtic culture. The emotion and feeling of Irish music is so special. Again, thank you for the music you make, it has meant a lot to me today."
Deedra Winey sent a photo and emailed: "Hi Marc! I'm ok,aside from a headache. Luckily I can sit in the quiet ,dark for a few days.
I rearranged some stuff and am now a Gunn Runner! I'm excited! You offer so much and you keep on it.I like that. The story of the song you wrote for your wife is sweet. I can't get my husband to write love NOTE!lol We've been married 35 years though. I met him on the grounds of a hospital for the mentally ill. I was there for an interview for a position in a house working with Mentally challenged women.I got the job...and the Supervisor of the house.lol
So,did you see my new face mask? No one I have seen gets it! I'll send a pic. The Angel has the Phone box!"
- SUPPORT WHAT YOU LOVE
If you enjoy the music in this show, please show your support. Buy music or Merch from me or our guest. Follow me on streaming. And tell a friend.
But the best way to support me is to Join the Gunn Runners Club on Patreon. Patreon funds my songwriting and more. Your support pays for the production and promotion of my music and this podcast. Follow the link in the shownotes.
31:30 - SONG: "Rocky Road to Dublin" from St Patrick's Day
Pub Songs Podcast was produced by Marc Gunn. The show is edited by Mitchell Petersen with graphics by Miranda Nelson Designs. To subscribe, go to Apple Podcasts, Spotify or to my website where you can subscribe to my mailing list. I'll email you regular updates of new music and podcasts, special offers, and you'll get 21 songs for free. Welcome to the pub at www.pubsong.com!
#pubsongs #johnnyjumpup #TuathadeDanann