Oct 18, 2021
Murphy's Law happens to the best of us including most musicians, but the Homespun Ceilidh Band turned a bunch of funny stories inspired by the Law into a fun song.
Marc Gunn shares a story about another Murphy, Captain Black Jack Murphy, and how a Talk Like a Pirate Day accent led to a dreadful story of air pirates and hunting dragons.
It's all on Pub Song & Stories #241.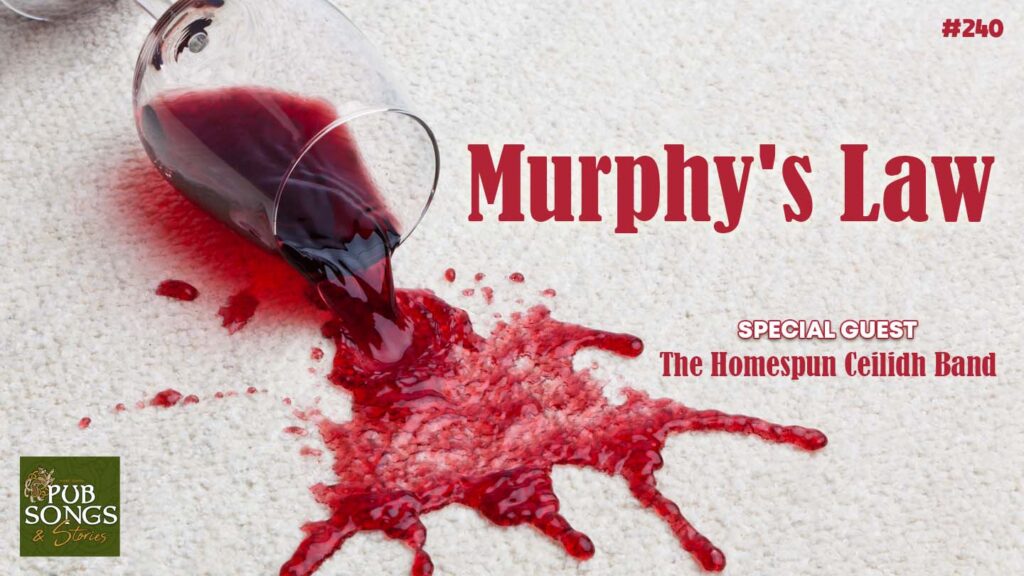 WHO'S PLAYING IN THE PUB TODAY
Welcome to Pub Songs & Stories. This is the Virtual Public House for musicians to share the stories and inspiration behind their music with your host Marc Gunn. Subscribe to the podcast and download free music at PubSong.com.
0:36 - NEWS IN THE PUB
Today's show is brought to you by my Gunn Runners on Patreon. You get MP3s of my songs I play in this show. And of course, I have lots of other exclusive podcasts and blogs that I share there. Special thanks to Angela Hughes, Tom Corcoran, two of our new annual Gunn Runners.
Facebook Went down at the beginning of October. There was a whole Twitter hashtag about it. Yeah. In order to find out what happened, I had to go to Twitter. That served as a great reminder of the problem of social media. So many people rely on it for "news". But the things you get off social media are not news. They are fake news and misinformation at best. Put aside bad algorithms. It is still detrimental for people to rely on it. Especially if you have a business like I do. I learned back in 2000 to not trust a third-party system. Mp3.com suffered similar problems. Ever since then, I have had my own mailing list and my own website. They are the places you go to find out about me in my music. And I think it's safe to say that's the case with every musician. So if you are not yet subscribed to my mailing list, please do so. If you find an artist on the show who's music you enjoy, subscribe to their mailing list. Don't let your whole world disappear when Facebook does.
2:49 - UPCOMING SHOWS
3:59 - STORY OF MURPHY'S LAW
Today, I'm pleased to introduce you to Daphne Arthur from the Homespun Ceilidh Band. Daphne shares a story about Murphy's Law and how that turned into a song. But she also shared a story with me, right after sending me the audio files that I could relate to.
"since I know how you feel about cats, I should share this: Guillaume (alien disguised as a dilute-orange tabby) was pestering me the whole time I was recording this afternoon. Pawing my leg, trying to tell me he Needed Something Urgently -- with a short break in the middle to sulk ("Look upon your poor, despondent cat, and feel guilty!") Didn't want petting or scritching, didn't want to be picked up ... I saved & exported my work and came into the next room. He followed me and immediately started eating. He wasn't asking for more kibble -- there was plenty -- but he needed me to Be There before he'd eat.
My last cat, Perrine, was even more like that -- she preferred that I not only be present, but eating, when she ate."
9:24 - "Mrs. Murphy's Band" by Homespun Ceilidh Band from Homespun Ceilidh Band
13:54 - SUPPORT WHAT YOU LOVE
If you enjoy these stories, then join Gunn Runners Club on Patreon. Your support pays for the production and promotion of my music and Pub Songs & Stories podcast. You can save 15% when you join with an annual membership. Plus you'll get a download of my song from this show.
Now let's hear the story and song that you will download when you join today.
14:14 - STORY OF THE WRECK OF THE BOLD IRISH STOUT
I don't play very many songs from Pirates vs. Dragons these days. I really loved how the album came out. But the songs feel off-point from my music in general. That's probably because it was a concept album. It has a story. I was playing a character in that story. Even though the character was technically me, it just felt weird sometimes.
The story of Pirates vs. Dragons was about me being shanghaied by Air Pirates led by Captain Black Jack Murphy. Capt Murphy was a character I created as part of the Renaissance Festival Podcast back in 2006 or 2007. I forget. It was Talk Like a Pirate Day. So I put on a brogue and created this pirate character and his ship the Irish Stout.
The story of Murphy grew. So in 2010, I wanted a Steampunk-inspired album about me shanghaied by air pirates. I asked Rie Sheridan Rose to write the lyrics for this story. We fleshed it out in 2015 when I finally tackled the album
Again, I love the story that came out of this project. The idea was that I was writing an album to praise Captain Black Jack Murphy, but my secret mission was to "save the dragons". One of the songs to come out of this was "The Wreck of the Bold Irish Stout".
Again, Rie was writing with the idea that these songs were more sea shanties than anything. But I infuse my own music style. So many of the songs, including this one, came out not quite shanty-like. But it's a great story. If it was shorter, I might actually play it at shows.
It tells the story of how dangerous it is to hunt dragons and the motivations behind some dragons.
16:14 - "The Wreck of the Bold Irish Stout" from Pirates vs. Dragons
Pub Songs & Stories was produced by Marc Gunn. The show is edited by Mitchell Petersen with graphics by Miranda Nelson Designs. You can subscribe and listen wherever you find podcasts. You can also subscribe to my mailing list. You will get regular updates of new music, podcasts, special offers, and you'll get 21 songs for free. Welcome to the pub at www.pubsong.com!
#pubsongs #homespunceilidhband #irishstout