Oct 4, 2021
Leo of Brazil psychedelic Irish band Harmundi shares how an improvisational set of tunes turned into their brand new single. Marc Gunn infuses a traditional Irish song with a little taste of New Orleans.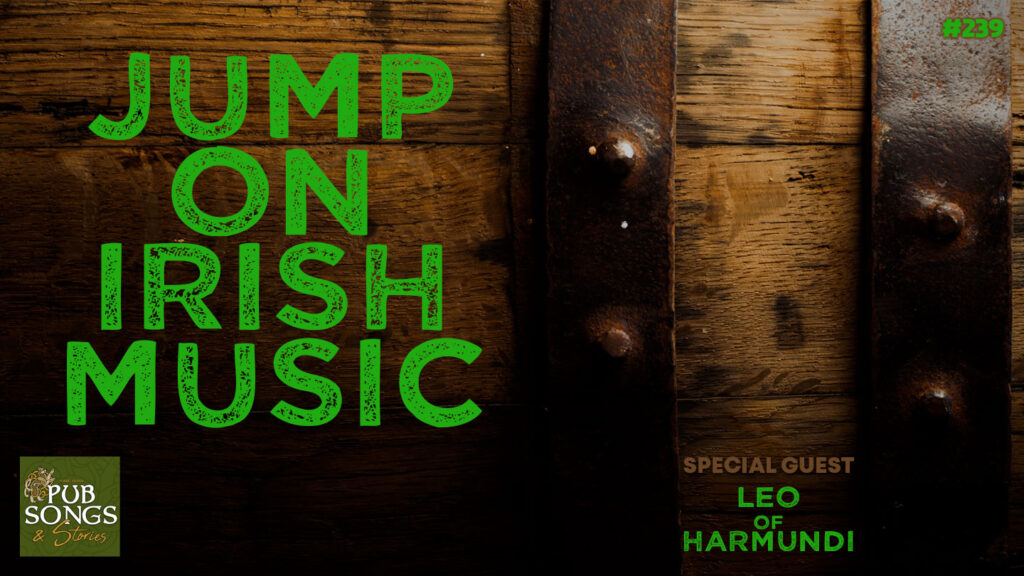 WHO'S PLAYING IN THE PUB TODAY
Welcome to Pub Songs & Stories. This is the Virtual Public House for musicians to share the stories and inspiration behind their music with your host Marc Gunn. Subscribe to the podcast and download free music at PubSong.com.
0:28 - NEWS
Today's show is brought to you by my Gunn Runners on Patreon. They get to hear the show before you do. They get MP3s of played in this show. And of course, I have lots of other exclusive podcasts and blogs that I share there. Special thanks to Gabriel Eggers, Jessica Asbury, Patricia deVarennes
What new patreon content was added? I posted a review of my trips to Dragon Con and Gen Con in September. I posted 2 new MP3s from earlier in the year. Most were recorded for this podcast. But I'll be songwriting more in the months to come as I launch season 2 of the In the 'Verse podcast with Mikey Mason. That's where we watch a pop culture TV show and then write a song about it. The ZERO episode of Season 2 was released on Saturday.
Upcoming Shows: OCT 7: Browncoat Drinking Songs on Coffee with The Celtfather, OCT 15-17: Multiverse, Atlanta, GA, OCT 21: Firefly Drinking Songs on Celtfather Live on Bandcamp. Save when you join the Gunn Runners Club.
2:02 - STORY OF CELTIC IMPROV
Harmundi is a Celtic band out of Sao Paolo, Brazil. Leo of Harmundi shares how an improvisational set of tunes turned into their brand new single.
We like to call our music "psychedelic Irish music" because a great part of it is made out of improvisations, in a real-time dialogue between the instruments. Among our sets, one in particular, called "Jump At The Morrison" has been present in every show we ever played and in each one of our albums – although every time it is iterated in a significantly different way, because at least half of it is created on-spot with no time limit. We based our new single on this set.
The Pandemics proved a time to abandon our comfort zones, so we decided to record it as a single in yet a newer way: stripped out of both tunes (Jump At The Sun and Morrison's Jig), leaving only the improvs. Contrary to what we are also used to, the harmony was first composed by our guitarist, and the melodies were created following her progressions.
The Pandemics were also a time for us to relearn our concepts of time and develop a new relationship with the "here and now". Because of that, we made it our shortest track yet, very different from the usual 6 - 10 minutes we're used to working with. And we made it with no clear beginning, middle or end, in a way some music traditions of the world work: it can either be looped (hence the name, which can also produce a "loop"), or be seen like a river that just flows forward – and, in that case, to watch it go is to simply stay with the flow of the present moment.
The single was recorded in our personal home studios and mixed by our mandolinist. The artwork was designed by our flutist, who is also a photographer, based on one of his photos.
4:25 - "Op At The Lo" by Harmundi from single
You can find more about Harmundi at Harmundi.art, and you can enjoy their "Jump at the Morrison" set on show #525 of the Irish & Celtic Music Podcast. You can also buy their music on Bandcamp, which is my favorite place to recommend you to buy, because that's where the artists get paid the most.
If you enjoyed the music, check out the band and maybe buy some music and merch, follow them on social. Send them lots of love and money.
6:56 - SUPPORT WHAT YOU LOVE
If this show made you happy, then join the Gunn Runners Club on Patreon. Your support pays for the production and promotion of my music and this podcast. If you have questions or comments, drop me an email. Save 15% with an annual membership.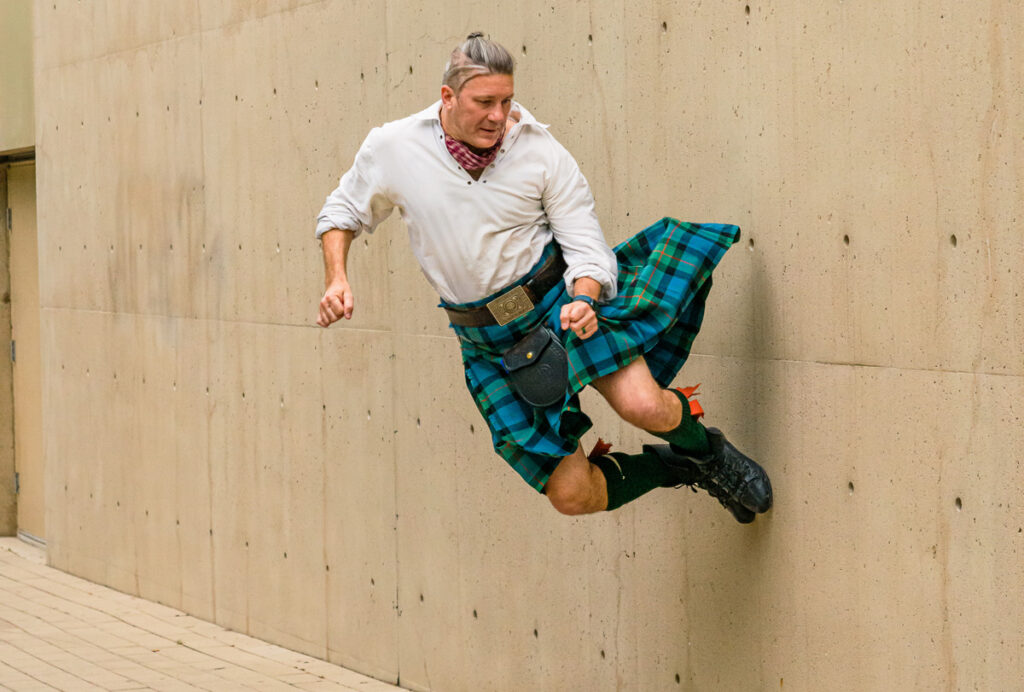 7:11 - STORY OF JOHNNY JUMP UP
In 1999, I was playing on the South Mall with the Brobdingnagian Bards. We played at lunchtime five days a week to try and improve our chops and maybe make a few fans. And fans we made. More and more people sat in the grass of the mall eating their lunch and listening to us play.
At the end of one show, a man approached us and asked if we knew some Celtic bands. I was brand new to Celtic music at the time. I had no clue who The Wolfe Tones, The Irish Balladeers or Christy Moore were. But when he came back, he brought me a mixtape with a couple albums by those first two and a few tracks by Christy Moore as well. I ate it up.
I listened to the cassette constantly. It was my true entry into the world of Celtic music. The two tracks by Christy Moore stood out the most. One was a brilliant, rockin' folk version of "Lanigan's Ball". The fiddle and the bodhran. OMG. It was just amazing.
The other was a ¾ time signature version of "Johnny Jump Up". I soon added that to our repertoire. Our version stood out at Excalibur Fantasy Faire because of the rhythm. You see, the song was making its rounds on the faire circuit. The Bedlam Bards sang it. And there were a bunch of people at the Tavern who also sang it. But the later version was very poppy. I was anti-pop at the time. So the upbeat vocal harmonies just annoyed the hell out of me.
It wasn't until last year that I realized Gaelic Storm released a version of "Johnny Jump Up" on their album "What's the Rumpus?". I'm guessing that's where that upbeat version gained popularity. But who knows now.
Nevertheless, when the Brobdingnagian Bards split up in 2008, I wanted to do something new with the song. I moved to New Orleans in 2009. When I sat down to record Happy Songs of Death, I decided to give it a little rhythm of my own. It turned into quite a fun song to sing.
You can hear another version of me singing this song in show #222 St Patrick's Day Gift. I do highly recommend you check out that episode if you haven't. That's because I also sang on a Celtic Rock version of that song by Tuatha de Danann. It is insanely awesome.
Next week, you get to hear a story and a tune by Muireann Nic Amhlaoibh from my 2019 Celtic Invasion of Dingle, Ireland.
9:58 - "Johnny Jump Up" by Marc Gunn from Happy Songs of Death
Pub Songs & Stories was produced by Marc Gunn. The show is edited by Mitchell Petersen with graphics by Miranda Nelson Designs. You can subscribe and listen wherever you find podcasts. You can also subscribe to my mailing list. You will get regular updates of new music, podcasts, special offers, and you'll get 21 songs for free. Welcome to the pub at www.pubsong.com!
#pubsongs #harmundi #johnnyjumpup