Jun 14, 2021
Was the harp banned by Queen Elizabeth? Hear the origins of the song Soul of a Harper by Rie Sheridan Rose. Songwriting as a parent offers its own special joys, songs about the children we love. Plus, was it horrible, the night that Paddy Murphy died?
Welcome to Pub Songs & Stories. This is a Virtual Public House for musicians to share the stories and inspiration behind their music.
My name is Marc Gunn. Today's show is brought to you by my Gunn Runners on Patreon. Subscribe to the podcast and download free music when you sign up at PubSong.com.
#pubsongs #harpers #queenelizabeth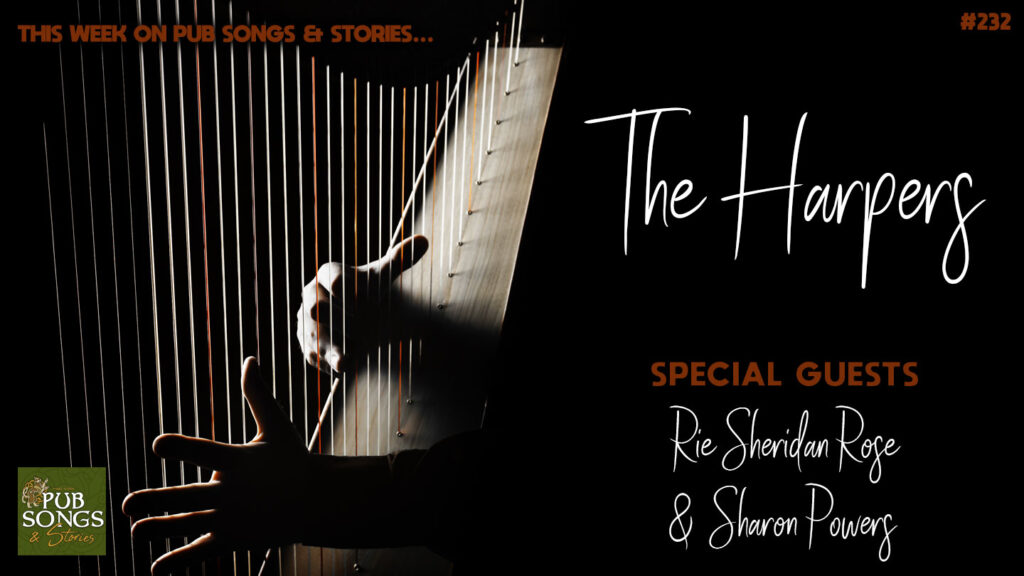 WHO'S PLAYING IN THE PUB TODAY
0:32 - "The Night Paddy Murphy Died" from Going for Brogue
6:11 - WELCOME kids back in school. Correction from last show
10:22 - "The Lady of Setliff Manor" from Soul of a Harper
12:22 - TRAVEL WITH CELTIC INVASION VACATIONS. Every year, I take a small group of Celtic music fans on the relaxing adventure of a lifetime. We don't see everything. Instead, we stay in one area. We get to know the region through its culture, history, and legends. You can join us with an auditory and visual adventure through podcasts and videos. We're going to Scotland in 2022. Join the invasion at http://celticinvasion.com/
13:40 - Was the harp banned by Queen Elizabeth? That's the story that Rie Sheridan Rose heard. It led to the creation of a great song first recorded by my old band, the Brobdingnagian Bards. It also became the album title for my first official solo CD.
Rie Sheridan Rose is a published author and poet. Little did I know when she gave me the lyrics to this song that I would be singing it twenty years later and have collaborated with her on many songs since. You can hear more of her songs and about our collaborations on show #210 of this show.
16:34 - History on Rie's Story
I did a search to find out more about this period in history, to sort of corroborate Rie's story. I found several websites that said, yes indeed, it did happen. Here's some info from HipHarp.com:
"The Irish harpers began to be suppressed after the Anglo-Norman invasion in the 12th century, which broke down the old cultural systems. The kings, who always had their own personal harpers, who were of very high standing, were replaced with English nobles. The Irish harpers began an existence of wandering from court to court. The English accused them of being spies. Queen Elizabeth decreed in 1603 that all Irish harp players should be hung and their harps burned.
Interestingly, the British loved Irish harp music and usually employed harp players of their own. Queen Elizabeth had one. I guess he was immune. Cromwell was even more radical than Elizabeth and pretty much finished them off. Of course the harp tradition didn't die out all at once. Turlough O'Carolan, the most famous of the Irish harpers we have on record lived from 1670-1738. But 1792 was the last harp meeting in Belfast and by the beginning of the 19th century harp playing had pretty much died out. In Scotland the harp players were able to hide out in the Highlands, but the Battle of Culloden (1745?) pretty much finished off Scottish Highland culture and with it the harp players."
19:32 - "Soul of a Harper" from Brobdingnagian Fairy Tales
23:01 - Songwriting as a parent offers its own special joys, songs about the children we love.
Autoharpers like myself often liken ourselves to actual harpers. The great Irish harper, Turlough O'Carolan, is a favorite of us, but now it's time to highlight an actual harper and songwriter.
Sharon Powers is a Celtic harpist in Birmingham, AL. She has played professionally since 2016. Her musical stylings lend both touches of elegance and whimsy that delight the ears of all who listen. She is also the mother of a baby named Arthur as she'll tell you about it in her story.
26:12 - "Arthur's Lullaby" by Sharon Powers from Single
-- New Irish & Celtic Song Lyrics. I updated the lyrics for all of the songs I sing in this show. You will find lyrics and chords so you can play along with me. Just click the song title to find the lyrics or follow the link in the shownotes to find more Irish & Celtic song lyrics.
30:02 - UPCOMING SHOWS
THURS: Coffee with The Celtfather on YouTube (Season 8.5) @ 12:00 PM Eastern
JUN 17: Carmanda Art Show on YouTube @ 12:00 PM Eastern. Free!
JUN 17: Celtfather Live @ 8 PM ET. Get your tickets.
JUN 18-20: Magic City Con, Birmingham, AL
JUN 27: Tucker Brewing Company, Tucker, GA @ 3:30-6:30 PM ET
You can find my complete calendar on my website.
31:14 - SUPPORT WHAT YOU LOVE
If you enjoy the music in this show, please show your support. You can learn more about my guests by following the link to them on the website. Sign up to our mailing lists. Buy music or merch. Follow us on streaming and tell a friend.
Pub Songs & Stories is based on the value-for-value model. If you get pleasure from this show, you can buy my Virtual Public House CD or send me a few bucks to keep it going.
Or best of all, Join the Gunn Runners Club on Patreon. Your support pays for the production and promotion of my music and this podcast. Follow the link in the shownotes.
Special thanks to my newest patrons: Amelia Pantone, Ron Lankford, Rod Nevin
If you have questions or comments, email me or Chat in the Celtic Geeks group on Facebook.
-- Post a review in Apple Podcasts. If you enjoy the show, please subscribe or post a review on Apple Podcasts. I'd love your feedback.
32:40 - "Everybody Needs A Drinking Song" from Don't Go Drinking With Hobbits
Pub Songs & Stories was produced by Marc Gunn. The show is edited by Mitchell Petersen with graphics by Miranda Nelson Designs. You can subscribe in your favorite podcatcher or listen on my website where you can subscribe to my mailing list. I'll email you regular updates of new music and podcasts, special offers, and you'll get 21 songs for free. Welcome to the pub at www.pubsong.com!