Oct 13, 2016
This podcast was founded not just on pub songs but Irish pub songs. I haven't played any in a while. So while searching for popular Irish pub songs, I found a nice list on Irish Central. I have recorded versions of many of these songs. So I thought I would share them in this episode along with a couple awesome song surprises from Brobdingnagian Bards, Socks in the Frying Pan and Van Morrison!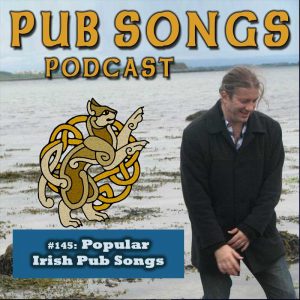 Pub Talk
* I want to send out a special thanks to all of my new patrons. I had a huge uptick of signups at the end of September. Because of the overwhelming response, I'm doing several Facebook Live concerts with songs picked by Patrons. The first was recorded last week. You can watch it on Facebook. The next one is on October 18th. A big thanks to our newest patrons: A.M. Paulson, Brad Boucher, Ben Damiano, Alexis, Randy Brown, Cynthia Anderson, Tamara Mills, Reba Scott, Joshua Ohmer, Jimmy Rimmer, Jennifer Crispin, Thallian, Keri Hamlin, Dawn Barela, Larry Solomon, Vaidah Katz, Myriam Plante, Kristine D Mitchell, Frank Donahue, Wayne Garmil, Solomon Makonnen. Become a Patron Today. Because music is happiness!
* I also have my next Concert Window show lined up. It's my third annual Celtic Halloween Music show. The show is absolutely free to watch. Go to celtfather.com/watch to get notified about that concert and all of my live streaming internet shows.
* This Saturday, October 15th, I'm heading back to my Marietta, Georgia for my final concert of 2016 at Johnnie MacCracken's Celtic Pub. It's gonna be a rollicking good time. And I won't be back until next year. So don't miss the show!
* Irish & Celtic Music Podcast
* Do you support Celtic music? You can buy many of my CDs at HUGE discounts (up to 60%) in my Celtic Music CD Store. I'm holding a Big Sale on my Classic album titles. Go to celticmusic.org/bigsale for details. This offer is good in October 2016.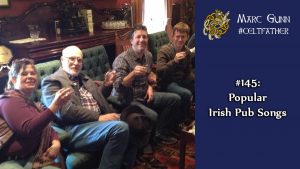 Who's Playing the Pub Today
0:12 "Finnegan's Wake" by Brobdingnagian Bards from Songs of Ireland
3:41 "Rocky Road to Dublin" by Marc Gunn from Not Every Day Is St. Patrick's Day
6:52 "Wild Rover" by Marc Gunn from Irish Drinking Songs: The Cat Lover's Companion
9:22 "Lanigan's Ball" by Brobdingnagian Bards from Songs of Ireland
13:27 "Too Late" by Van Morrison from Keep Me Singing
16:10 "The Slipjigs & Reels" by Socks in the Frying Pan from Socks in the Frying Pan
23:06 "Slainte Mhaith" by Kilted Kings from Name On My Soul
25:05 "Gypsy Rover" by Marc Gunn from The Bridge
29:23 "Molly Malone" by Marc Gunn from Celtic Geek
Special thanks to all of my Gunn Runners on Patreon. They pledge $1 or more per month to support my music. You can too and you'll get free music, early versions of songs and lyrics, behind-the-scenes podcasts, and first look at new videos. Find details on Patreon at marcgunn.net.
The Pub Songs Podcast was produced by Marc Gunn, The Celtfather. If you enjoyed this episode, then please post a review on iTunes or your favorite podcatcher. As always support the musicians who support this podcast, buy their CDs, and then tell your friends to visit pubsong.com.