Jan 31, 2022
Get inspired by the famous Isle of Mist with a story by Duncan McLauchlan. You will learn the secret of why cats knock things over. Discover which two Celtic artists were added to the all new Best of 2022 Irish & Celtic Music playlist on Spotify.
It's on the next Pub Songs & Stories #248.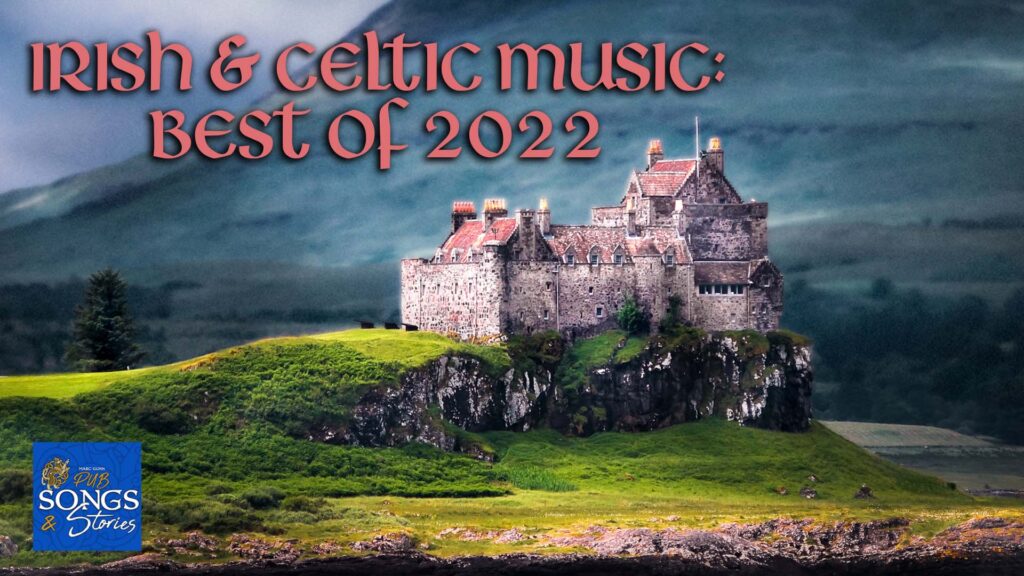 WHO'S PLAYING IN THE PUB TODAY
Welcome to Pub Songs & Stories. This is the Virtual Public House to share stories and inspiration behind music with your host Marc Gunn. Subscribe to the podcast and download free music at PubSong.com.
0:32 - WHAT'S NEW?
● Today's show is brought to you by my Gunn Runners on Patreon. Thanks to our newest patrons: Cary S, Richard H, Gail P.
● Patrons can save 25% off all of the merch in my MageRecords.com store. That includes shirts, CDs, stickers, songbooks, USBs, whatever.
● What are you doing with your local celtic community? What are you doing while listening to Pub Songs & Stories? I'd love your thoughts and feedback. So take a picture of yourself or where you are or what one of these stories reminds you of. Post it on social media. Use the hashtag #pubstories so I can find it and share your story.
● Question. What song would you like to hear more about?
February 14 is the official release day of Selcouth. That's my 24th solo studio album. The title means "when everything is strange and different, yet you find it marvelous anyway." I feel like that suits my music to a tee. So I'm getting ready for the release.
It's odd releasing music as an indie musician. I host the largest podcast in the world for Celtic music, the Irish & Celtic Music Podcast. I also have the Irish & Celtic Music Magazine to promote it. There's a sizable mailing list there. But I realize that's it for what I can do.
From there, I need to actually reach out to other businesses and organizations. I gotta say it's kinda scary. And there's a reason why it's scary.
Years ago, the Brobdingnagian Bards released our first album, Marked By Great Size. I had NO network back then. I was not a gatekeeper for Celtic music. I was at the mercy of every newspaper, magazine, or radio show. I sent the album out. I hounded the media places I sent the CD to.
One was Dirty Linen magazine. That was the #1 magazine for Folk Music in the world. I emailed and emailed and wrote. No response. Months later, the album was finally reviewed. 2.5 stars and a very short 3-5 sentences belittling the album.
I was heartbroken. Months of hard work yielded THAT.
Now to be fair, it also inspired me to start my own internet magazine and eventually a podcast. But after releasing 23 solo albums, I realize that's just not enough. I need to do more. And I'm scared to.
So I'm gonna throw this out there. Is anyone interested in helping me promote my music, drop me an email. I have a method that will hopefully work.
3:45 - Muireann Nic Amhlaoibh "The Emigrant's Farewell" from daybreak: fainne an lae
7:34 - NEW PLAYLIST: IRISH & CELTIC MUSIC BEST OF 2022
I have a new playlist on Spotify. It's called Irish & Celtic Music: Best of 2022. This is something I created in conjunction with the Irish & Celtic Music Podcast. There's a new podcast episode every week with an hour of fantastic Celtic music. Patrons of the Irish & Celtic Music Podcast get to vote every week for their favorite songs on that podcast. Those votes are added up a couple weeks later. The most-popular songs are added to that Spotify playlist.
I thought it would be cool to share some of the more popular music this week. The first artists added to the new playlist were Muireann Nic Amhlaoibh and House of Hamill.
You can listen and subscribe to the Irish & Celtic Music: Best of 2022 playlist in the shownotes.
House of Hamill "Superb Owl" from Folk Hero
9:13 - UPCOMING SHOWS
● FEB 2: Coffee and Groundhogs with The Celtfather @ 11 AM ET
● FEB 17: CD Release Party - Celtfather Livestream on Bandcamp @ 8 PM ET.
● FEB 19: The Lost Druid, Avondale Estates, GA @ 7:00 – 9:30 PM. CD Release.
● FEB 25: Ironshield Brewing in Lawrenceville, GA @ 7:00 – 10:00 PM. CD Release.
12:47 - STORY OF THE ISLE OF MIST
Duncan McLauchlan originally hails from Dunfermline, Scotland. He's the son of a Scottish coal miner. Now he currently resides in Roswell, Georgia, not far from me. He has been around the Atlanta Celtic music scene for several years now.
He's a relative newcomer to the Irish & Celtic Music Podcast. But his music is solid. And he's writing songs inspired by his heritage while fusing in some Rock and Americana. In a great Scottish tradition, Duncan will share a story about his love for a place in Scotland.
18:00 - "Eilean a' cheo" by Duncan McLauchlan from A different flag
22:47 - SUPPORT WHAT YOU LOVE
The musicians on this podcast are happy to share their music freely with you. You can find their music on streaming music sites. But streaming is a way to sample the music. If you hear something you love, these artists need your support.
Please visit their website, sign up to their mailing list and buy something. You could buy digital downloads, a shirt, a sticker, a pin, a songbook, jewelry, or even the classic, physical CD. Your purchase allows all of us to keep making music. And if you're not into the physical stuff, many artists accept tips or are on Patreon. So please support the arts.
If this show made you happy, then you can also join the Gunn Runners Club on Patreon. Your support pays for the production and promotion of my music and this podcast. If you have questions or comments, drop me an email. Save 15% with an annual membership.
23:39 - STORY OF CATS KNOCKING OVER CUPS
One of my favorite Celtic songs to sing is "Mingulay Boat Song". I recorded a fantastic version of the song for my CD Scottish Songs of Drinking & Rebellion. You can hear more about that song in show #243 of Pub Songs & Stories.
Being a filker as well as a Celtic singer/songwriter, I find myself rewriting traditional Celtic song lyrics on a whim. That's what ultimately led to my Irish Drinking Songs for Cat Lovers series of CDs. "Mingulay Boat Song" was one such song that was a victim of my filking.
It happened when Kenzie was about 2 or 3 years old. Must've been about two. Because I remember her in a high chair right next to our kitchen table. She was eating and had a juice bottle sitting on the table.
She barely finished eating. I realized we were running late. So I didn't clean up. I picked her up and ran out the door, and drove her to daycare. When I got back, I walked into the kitchen and stepped in a puddle of sticky juice.
JENGA!
We had four cats at the time. We call ourselves the Brady Bunch of cats. She had two girls. I had two boys. They all had their quirks. Jenga was Gwen's cat. She was a tuxedo, black fur and white paws. She had a tiny head and a big body. One of her quirks was to meow and beg when someone was eating ice cream. The other was she knocked over any cup liquid that was left alone longer than 3 minutes.
For this reason to this day, we rarely have open drinks sitting out. Bottles of water are always preferred even though she passed away a couple years ago.
I don't remember when exactly I wrote "Mingulay Cat Song". But it wrote itself. I just had to remember the various instances when she knocked over this or that glass of liquid: watching TV, at bedtime, or just watching her in the act and wondering what is that all about? Why do cats like to knock things over.
Three things that I really LOVE about the lyrics. First is the third verse. There's a cold glass of water by the bedside. When I'm performing the song, I love acting out the tongue trying to lick the water in the glass that is not yet spilled over. I also love ending the verse with "satiated" even though it doesn't rhyme. It still works.
The third thing I love about the song is answering the question: why do cats love to knock over stuff? And I feel like my answer is pretty creative.
28:23 - Marc Gunn "Mingulay Cat Song" from Selcouth
32:27 - NEXT TIME
Eamonn Flynn shares an inspiring story of Dublin during a pandemic. I have a song to remind you to keep breathing when times are tough.
Pub Songs & Stories was produced by Marc Gunn. The show is edited by Mitchell Petersen with graphics by Miranda Nelson Designs. You can subscribe and listen wherever you find podcasts. You can also subscribe to my mailing list. You will get regular updates of new music, podcasts, special offers, and you'll get 21 songs for free. Welcome to the pub at www.pubsong.com!
#pubstories #DuncanMcLauchlan #whydocatsknockthingsover