Nov 2, 2016
Which is scarier: Halloween or the U.S. Presidential Elections? I think the later. To make Election Day easier, I present to you an Election Day Drinking Game. This episode will get you warm and toasty drunk enough for more drinking on Election Day, thanks to Spoon University. Music from Marc Gunn, Syr, Andrew McKee, Merry Wives of Windsor. Please LIKE and SHARE this podcast with your friends. You might even learn something... Download 21 Celtic and Geek MP3s for free at pubsong.net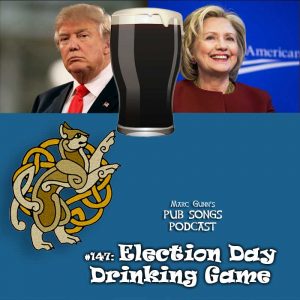 Pub Talk
* Kilted Kings at Louisiana Renaissance Festival
* In this show, take a sip anytime you hear the word drink or drunk. Take two sips each time you hear the word beer or wine. Down your beer any time you hear mention of one of the candidates. Take a shot anytime you hear any type of liquor.
* Don't share articles until you triple check them.
* Renaissance Festival Podcast
* If you want to see the original 2016 US Election Day Drinking Game, click here.
1. Take a Sip When the candidate you support wins a state.
Take two sips when the candidate you do not support wins a state.
2. Take a Shot When...
-Battleground states go the color you want them to
-Major states turn a color (California, New York...)
-Voter percentages exceed 55-65%
-Senate seats fall towards the Democratic Party
-Hillary Clinton's speech tries to appeal to the younger voters
3. Shotgun Your Beer If...
-Trump Wins
-Trump refuses to concede
-Trump's speech following the election results include "Crooked Hillary"
-Hillary Clinton wins the election by a landslide
-Hillary Clinton tries to appeal to millennial's during her speech.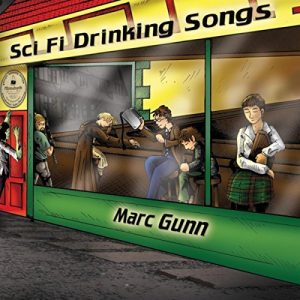 Who's Playing the Pub Today
0:42 "Let's Get Drunk Tonite" by Marc Gunn from Don't Go Drinking With Hobbits
6:11 "Come and Be a Pirate" by Marc Gunn from Pirates vs. Dragons
8:27 "Whiskey, Johnny" by Marc Gunn from Going for Brogue and Celtic Geek
11:39 "Pan-Galactic Gargle Blaster" by Marc Gunn from Sci Fi Drinking Songs
16:46 "Beer Medley (Live)" by Andrew McKee from The Irish Bard
22:47 "Devil and the Knight" by Merry Wives of Windsor from Here's to the Men
25:57 "I Drove My Father to Drink" by Syr from Home
28:58 "I'll Drink From Dusk Til Dawn" by Marc Gunn from Celtic Halloween EP
34:46 "Scouring the Shire" by Marc Gunn from Don't Go Drinking With Hobbits
The Pub Songs Podcast was produced by Marc Gunn, The Celtfather. If you enjoyed this episode, then please post a review on iTunes or your favorite podcatcher. As always support the musicians who support this podcast, buy their CDs, and then tell your friends.
Special thanks to all of my Gunn Runners on Patreon. They pledge $1 or more per month to support my music. As a patron, you'll get free music downloads, early versions of songs and lyrics, behind-the-scenes podcasts, and first look at new videos. Find details on Patreon at marcgunn.net.
Finally, how would you like a free album of my music? Plus, you'll get a friendly email from me every week or so where you hear what's new? Go to www.pubsong.net for details.