Dec 16, 2019
I think Christmas snow is just a dream. I remember maybe one White Christmas in my life time. But I still love the idea and the song. We're gonna make musical angels in the show with Santa Claus on the Pub Songs Podcast.
The Selkie Girls, Eddie Biggins, Highland Reign, The Gothard Sisters, Brobdingnagian Bards, Jil Chambless, Ed Miller and Scooter Muse, Marc Gunn
Welcome to the Pub Songs Podcast, the Virtual Public House for Celtic Geek culture. I am your Guide. My name is Marc Gunn. Today's show is brought to you by my Gunn Runners on Patreon. Your generous pledge allows me to create music and podcasts for you!
If you want to chat in the pub, then send me your feedback. What are you doing today while listening to the Pub Songs Podcast? Send a written comment along with any pictures to marc@marcgunn.com. Use the hashtag #pubsongs in the subject of your email.
Cead mile failte! Subscribe PubSong.net.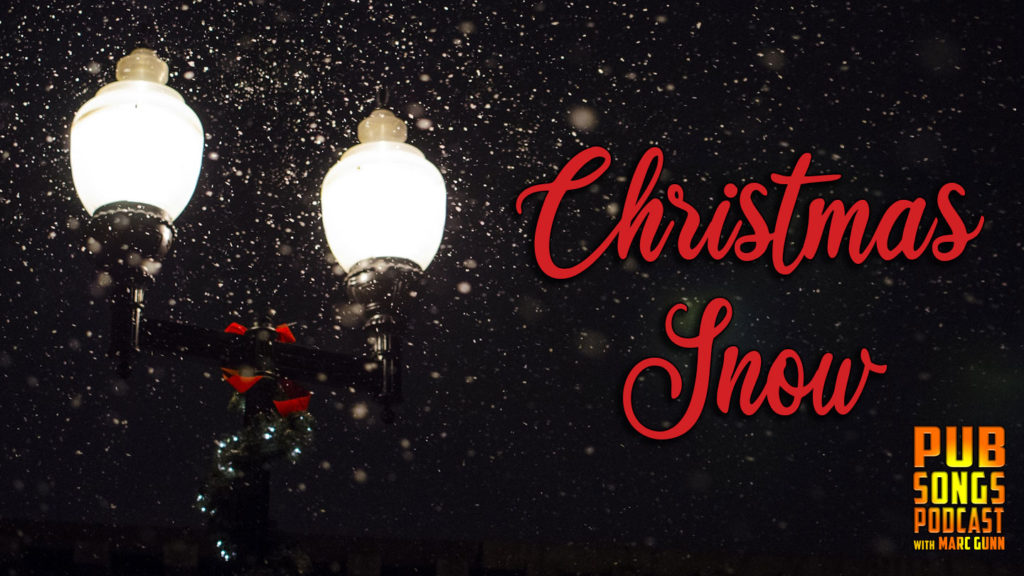 WHO'S PLAYING IN THE PUB TODAY
0:18 -- "Taladh Chriosda" by The Selkie Girls from Winter Lore: Songs of Celtic Christmas
Pronunciation: Tall-uck Crees-da
4:55 -- WELCOME.
I have two new singles are coming out this month. And I will feature both in this show

Selcouth means "When everything feels strange and different yet you find it marvelous anyway." Selcouth is the name of my new album. The Kickstarter to fund it will take place at the end of January 2020. Sign up to my mailing list so you don't miss it!
7:01 -- "See Amid the Winter's Snow" by Heather Dale from Spark
10:39 -- "Glasgow Christmas Rain" by Highland Reign from A Celtic Christmas
14:28 -- STORIES FROM THE ROAD: About Slainte Mhaith Christmas
If you enjoyed this episode of Stories from the Road, join the Gunn Runners Club on Patreon. You get first access to new music and once a week, you will enjoy a very personal look at the thoughts and stories behind the music. Your support pays for the production and promotion of the podcast, and it pays for my time in producing the show. You'll get it all for as little $5 per month. Learn more at marcgunn.net..
Special thanks to my newest patrons: Alicia, Eric F, Ken K, and Luke M
23:57 -- "Slainte Mhaith Christmas" by Marc Gunn from Single
25:58 -- "Still, Still, Still" by The Gothard Sisters from Falling Snow
29:09 -- TRAVEL WITH CELTIC INVASION VACATIONS. Every year, I take a small group of Celtic music fans on the relaxing adventure of a lifetime. We don't see everything. Instead, we stay in one area. We get to know the region through its culture, history, and legends.
You can join us with an auditory and visual adventure through podcasts and videos. In episode #191, I talk the itinerary of the 2020 Origins of Celtic Invasions. We will explore Venice, Vicenza, and Padova. We will see castles, sail rivers, explore hills and mountains, and eat amazing Italian food.
You can find out more about this exciting trip. Join the invasion at http://celticinvasion.com/
30:19 -- "The Last Jedi Drinking Song" by Brobdingnagian Bards from I Will Not Sing Along
34:02 -- "Ny kirree fo niaghtey (The Sheep are Under the Snow)" by Beth Patterson from The Poor Clares: Songs for Midwinter
37:44 -- UPCOMING SHOWS
Jan 10-12: GaFilk, Atlanta, GA (not a guest)

Jan 24: Interstellar Ginger Beer & Exploration Co, Alabaster, AL

Jan 25: Maggie McGuinness Pub, Huntsville, AL

Mar 20-22: Cleveland ConCoction, Cleveland, OH

Starting Jan 8, Weds 10:30 AM EDT: Coffee with The Celtfather, Facebook
If you enjoy the music in this show, support the artists. Buy their music and merch. Follow them on Spotify. Let them know how much you love what they are doing. And tell a friend.
39:06 -- "Snowfall" by Marc Gunn from Celtic Christmas Greetings
Pub Songs Podcast was produced by Marc Gunn. To subscribe, go to Apple Podcasts, Spotify or to my website where you can subscribe to my mailing list. I'll email you regular updates of new music and podcasts, special offers, and you'll get 21 songs for free. Welcome to the pub at www.pubsong.net!
#celticchristmas #christmasmusic #irishchristmas #selcouth #whitechristmas #santaclaus #christmassnow