Nov 18, 2019
I am working on my next studio album. It's something strange but marvelous as you'll learn in the podcast. Sorta like this voting method I discovered and added to the Celtic Top 20 at the beginning of the year. All of this plus music today on the Pub Songs Podcast.
Tullamore, The Gothard Sisters, Gillian Boucher, Farsan, Jil Chambless, Marc Gunn
Welcome to the Pub Songs Podcast, the Virtual Public House for Celtic Geek culture. I am your Guide. My name is Marc Gunn.
Today's show is brought to you by my Gunn Runners on Patreon. Your generous pledge of $5 per month allow me to create music, podcasts, and my weekly video show, Coffee with The Celtfather. Thank you!
If you want to chat in the pub, then send me your feedback. What are you doing today while listening to the Pub Songs Podcast? Send a written comment along with any pictures to marc@marcgunn.com. Use the hashtag #pubsongs in the subject of your email.
Cead mile failte! Subscribe PubSong.net.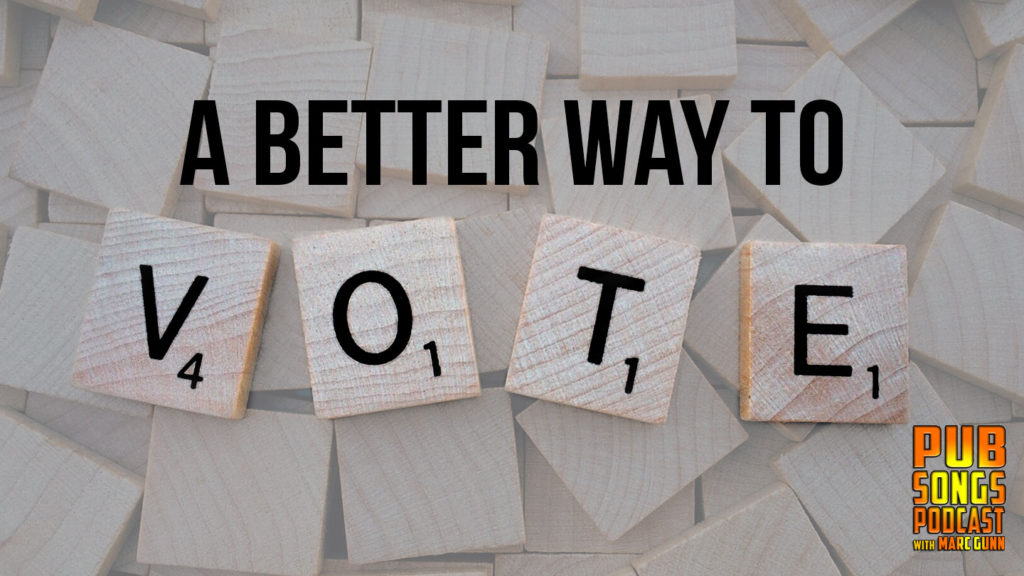 WHO'S PLAYING IN THE PUB TODAY
0:20 - "Step It Out, Mary" by Tullamore from Six Strings and Coffee Beans
3:13 - WELCOME.
— In the 'Verse Podcast #8: Out of Gas
— Celtic Christmas Podcast and new Patreon page
5:47 - "The Sailor and the Mermaid" by The Gothard Sisters from Story Girl
9:53 - "Groovy Otis" by Gillian Boucher from Elemental
13:39 - New CD: Selcouth
21:47 - "Loch Lomond" by Marc Gunn from Selcouth
24:37 - "Mingulay Cat Song" by Marc Gunn from Selcouth
28:46 - STORIES FROM THE ROAD: A Better Way to Vote, Ranked-Choice Voting
If you enjoyed this episode of Stories from the Road, join the Gunn Runners Club on Patreon. At least once a week, I share Stories, blogs, and even new songs I'm working. You get to hear it all first.
34:53 - "Pronn An Caoran" by Farsan from Farsan
(prawn an cor-an)
38:13 - TRAVEL WITH CELTIC INVASION VACATIONS. Every year, I take a small group of Celtic music fans on the relaxing adventure of a lifetime. We don't see everything. Instead, we stay in one area. We get to know the region through its culture, history, and legends.
You can join us with an auditory and visual adventure through podcasts and videos. In episode #191, I talk the itinerary of the 2020 Origins of Celtic Invasions. We will explore Venice, Vicenza, and Padova. We will see castles, sail rivers, explore hills and mountains, and eat amazing Italian food.
You can find out more about this exciting trip. Join the invasion at http://celticinvasion.com/
40:09 - "Foxy Devil" by Jil Chambless from The Ladies Go Dancing
43:26 - UPCOMING SHOWS
* WKD 29 NOVEMBER: Starbase Indy, Indianapolis, IN, US
* FRI 24 JANUARY: Interstellar Ginger Beer & Exploration Co, Birmingham, AL
* SAT 25 JANUARY: Maggie McGuinness Pub, Huntsville, AL
* Coffee with The Celtfather, Wednesdays at 10:30 am EST on Facebook, Twitter, and YouTube
The Pub Songs Podcast is listener-supported. You can join my Insiders Circle by becoming a Gunn Runner on Patreon. It's just five bucks a month and you get a lot of bonus content. Go to marcgunn.net to become an Insider today.
Special thanks to my newest patrons: Gregory M, Alicia, Eric F, Ken K
If you enjoy the music in this show, support the artists. Buy their music and merch. Follow them on Spotify. Let them know how much you love what they are doing. And tell a friend.
46:37 - "Heart and Soul (ala Jimmy Durante)" by Marc Gunn from Gunn Runners Club
Pub Songs Podcast was produced by Marc Gunn. To subscribe, go to Apple Podcasts, Spotify or to my website where you can join the Gunn Runners Club on Patreon and support my music and this podcast. I'll also email regular updates of new videos, podcasts, stories behind the songs, plus 21 songs for free. Welcome to the pub! www.pubsong.net
#rankedchoicevoting #marvelous #celtfather