Aug 1, 2022
Do you have song lyrics that you wrote that could be set to music? Send them to me. Kelly and Mitchell did. Their song "Lads in the Shire" is on my new CD, Selcouth. We will tell you how it happened and if it'll work for you.
It's Pub Songs & Stories #256.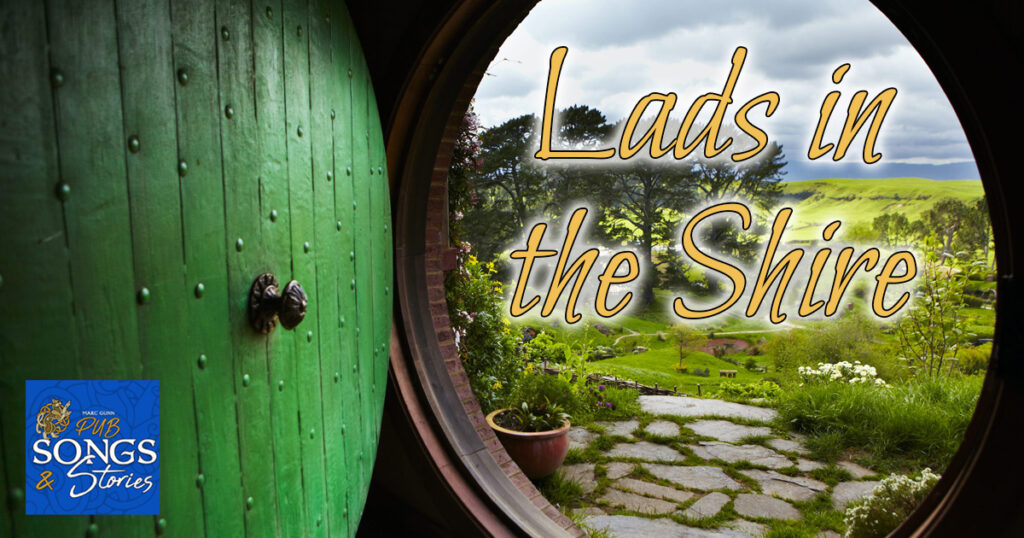 0:02 - WHO'S PLAYING IN THE PUB TODAY
Welcome to Pub Stories. Hey, if you want to know more about the songs I play? This is the audio liner notes for you to get to know more about my songs and how they might relate to your life.
0:30 - THANK YOU GUNN RUNNERS
But first, Pub Songs & Stories is a podcast brought to you by my Gunn Runners on Patreon.
The public version of his show is released on the first Monday of each month starting in August. There will, however, be a private version. It will come out two weeks after the public one, exclusively on Patreon.
If you're looking for Stories from other Celtic bands, like we had in episodes last year, then be sure to subscribe to the Irish & Celtic Music Podcast.
As a patron of mine, You'll get this podcast, be able to download songs featured in this show, get sheet music, and access to Coffee with The Celtfather concerts. You get a lot for as little as $5 per month. And you can save 15% with an annual membership.
Thanks to my newest Gunn Runners on Patreon: Ivan MacKillop, Don Rice, Antonya Pickard, Debra Cottrell, Didi Magnin, Nancy DouglasdeBaca, Wayne Finegar
1:40 - WHAT'S NEW?
My new Kickstarter goes live in August. The album is called Come Adventure With Me. It features that title track, and some of my newest music. Several songs are already recorded and released as singles. And if I haven't given them away on Patreon yet, they will be. Why is that?
Well, Streaming music gives you a quick and easy way to sample all of my music. Digital sales keep my business running. Tips and CD sales allow me to tour. Patreon funds my songwriting! Kickstarter funds physical products like CDs, shirts, pins and other merch. The plan is to officially release the album next year. But in what format?
I have quite a few people who ask that I keep releasing CDs. I also started releasing Album Pins, which are lapel pins associated with each album.
That is what this new Kickstarter will fund. Yes. Some of the music will go to pay musicians for their time in helping me create the music. But most of it will go into producing physical merch for this album. Although I'm also raising money for album lapel pins of a couple past albums.
If you're interested in supporting this album, please subscribe to my newsletter and follow the link to my Kickstarter page in August.
3:13 - UPCOMING SHOWS
A while back, Mitchell Petersen emailed me some lyrics. Mitchell is not only the sound engineer for my podcasts. But he and his wife Kelly are also fans of my Firefly Drinking Songs and Hobbit Drinking Songs shows at Dragon Con. And of course, he's a fan of the Irish & Celtic Music Podcast which is where they found the song that they filked.
I will let them start by telling you more about the song "Lads in the Shire".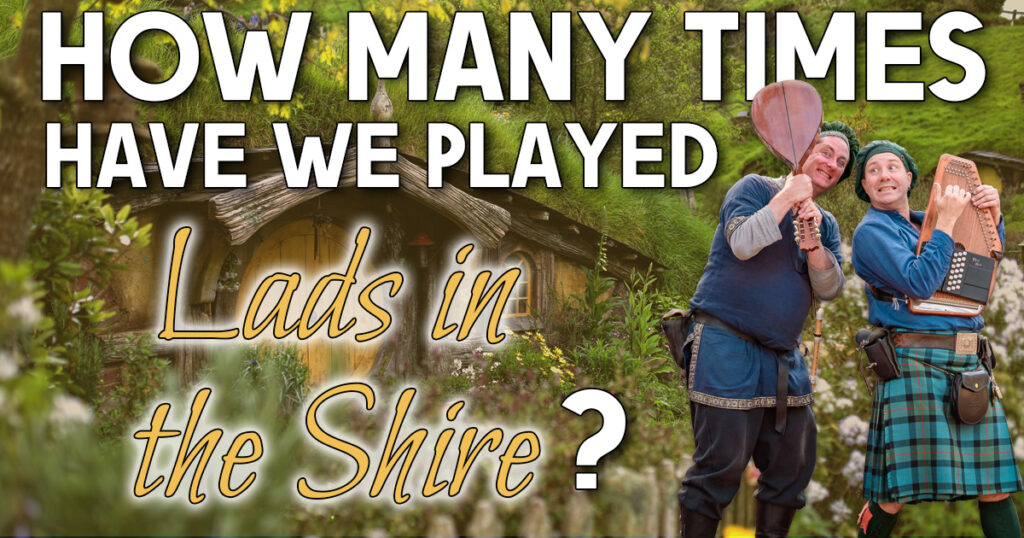 3:43 - STORY OF LADS IN THE SHIRE
To answer that question about whether Andrew and I had played that song much before our Hobbit Drinking Songs show. The answer is no.
It's funny getting song lyrics from people. What makes me choose one song or another? It really varies. First off, I don't do nearly as many parodies as I used to. I enjoy parodies. However, one of my big goals these days is to write song lyrics and melodies.
It's rare that I follow up with songs sent to me that are parodies. Especially if I don't know the original song. Sometimes, I will write my own melody. Mitchell and I have gotten to know one another over the years. So I thought it would at least be worth trying that.
Some songs are really tough. They just don't click. I have some lyrics from Rie Sheridan Rose that I still haven't set to music. But of course, I also have a whole bunch that I did.
Maybe it's the hobbit-y nature about this song, But I loved the lyrics. They were different from my standard hobbit lyrics. Especially the ones that I write. It felt like a good change to try. So I picked up the autoharp and started strumming.
I said some songs are really tough to write melodies for. This one was not. The autoharp and melody came together with minimal effort. I also decided to record it. Initially, I thought I would just have Mitchell mix it and release it on Patreon as a one off freebie.
But after getting additional instrumentation added and hearing the mix, I decided to consider it for This CD.
Now I should point out, I had about 20 tracks I was considering for the album. Why did this one make the cut instead of being delayed until the next album?
Length.
My goal was to keep the album at under 44 minutes. That's 22 minutes per side. After organizing all of the songs, this 2 ½ minute song fit perfectly on the A side of the album.
Yeah. I know. It's kind of silly.
That's not to say it wouldn't have made the cut. I still love it and as Mitchell pointed out, it is the latest addition to my Hobbit Drinking Song show I do.
The delightfully simple instruments of bass and mandolin were provided by Daniel Briggs. And of course, Mitchell Petersen mixed and mastered the song.
You can download "Lads in the Shire" as an MP3 when you join my Gunn Runners on Patreon.
13:55 - Marc Gunn "Lads in the Shire" from Selcouth
Thanks for listening to Pub Stories. The show was produced by Marc Gunn, edited by Mitchell Petersen with graphics by Miranda Nelson Designs. You can subscribe and listen wherever you find podcasts. You can also subscribe to my mailing list. You will get regular updates of new music, podcasts, special offers, and you'll get an album for free. Welcome to the pub at www.pubsong.com!
#pubstories #ladsintheshire #hobbitsongs