Apr 15, 2018
I have a new album up on Kickstarter. It's Sea Shanties for Cat Lovers. I have an extremely ambitious goal. So I need your support and I need your help sharing the project. You'll find a link in the shownotes.
For that reason, today's Geek Pub Songs is dedicated to funny cat songs. With two albums of Irish Drinkings for Cat Lovers, I have quite a few cat songs. But I also found a few funny cat songs by other artists.
This week in the Geek Pub, you'll enjoy music from Marc Gunn, Jamie Anderson, Ed Miller, Sarah Donner.
If you enjoy this show, LIKE it, SHARE it, post in the comments, or tell a friend. Then subscribe to the podcast and my mailing list at http://pubsong.net/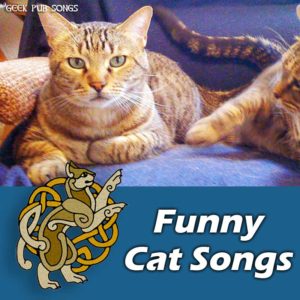 WHO'S PLAYING IN THE PUB TODAY?
0:12 "Kitty at the Door" by Marc Gunn from Whiskers in the Jar
4:46 "What Shall We Do With a Catnipped Kitty" by Marc Gunn from Whiskers in the Jar
7:51 "When Cats Take Over the World" by Jamie Anderson from Never Assume
11:16 "The Old Woman and Her Cat" by Ed Miller from Live at the Cactus Cafe
13:54 "The Rebuttal of Schrodinger's Cat" by Sarah Donner from That Is a Pegasus
17:10 MEMORIAL FOR TORRE GUNN
17:36 "Catnipping Green" by Marc Gunn from Irish Drinking Songs for Cat Lovers
22:02 PUB TALK
24:32 "The Cat Came Back... The Cat's Perspective" by Marc Gunn from Irish Drinking Songs for Cat Lovers
27:41 "Cat Mat Combat" by Sarah Donner from Hairball: Songs from the Depths
29:45 "Lord of the Pounce" by Marc Gunn from Irish Drinking Songs for Cat Lovers
35:29 "When the Dairy Farm Caught Fire" by Marc Gunn from Whiskers in the Jar
Geek Pub Songs was produced by Marc Gunn. Special thanks to all of my patrons in the Gunn Runners Club. If you enjoyed this episode, please support the musicians who support this podcast, buy their merch, follow them on Spotify, and share the show. You can get regular updates of new videos, podcasts, lyrics, stories behind the songs, plus 21 songs for free. Subscribe to the podcast and newsletter at www.pubsong.net.
THANK YOU PATRONS
I want to thank everyone in the Gunn Runners Club on Patreon. I have 141 patrons who pledge a $1 or more per month so that I can keep creating new music and entertainment for you.
I updated the levels last month. Now there's a $5 per month Behind-the-Scenes level and the new $10 level allows you to get a bonus CeltfatherLive streaming internet concert every month.
I want to thank my newest Gunn Runners: Darlene Kane, Valerie Petrovits, Ian Gifford, Steven Polunsky, Jenn Evans, Ed Powell, Philip Kennedy, Jerrie Adkins, Karen Cox, Andrew Lee, John Lude, River Godbee, Lisa Dalton, Dan, Erika Poole, Mike Mestemaker, Tina Good, and also Paige who raised her monthly pledge
Go to marcgunn.net to become a patron today!
PUB TALK
I released three episodes of Celtfather Music & Travel last month. You can hear how my Firefly Drinking Songs came to be, learn ten fun St Patrick's Day facts, and hear the story behind "The Long Arm".
The next CeltfatherLive concert is scheduled for Sunday, April 15 at 8 PM CST. Register at Celtfather.com/watch to join me for this free concert on YouTube.
My old band, the Brobdingnagian Bards, launched our own Nagians Only Club on Patreon last month. As a result, we have started working on new music together. We released our first single at the end of March. And have more planned And of course, the Bards' patrons will get those tracks first.
I have a brand new single that should be out very soon. It's called "Why Do You Torture Me?" And it's all about people requesting old songs that I no longer remember the lyrics to. The single will come out next month. But it'll be available to my patrons very soon.
If you love my music, please follow me on Spotify. Add my songs to your playlist. If you're looking for a great playlist to get started with, check out Top Irish & Celtic Music of the Week.
I know some musicians complain about how Spotify doesn't pay, but ye know what, streaming music is the future of the music industry. Yes, I would LOVE for you to buy my music too. But I'm honored that you would stream my music on Spotify as well. Please add it to your Spotify library and playlists. Spotify is great for sharing.
Watch this video: What do you think of Spotify?
March is over. So As Long As I'm Flyin', my new album of Firefly drinking songs is no longer available as a CD... or is it? I have left ONE way open for you to buy the album, that is through the Deluxe Package. Check out my Bandcamp page. You can get a Songbook, T-Shirt, tote bag AND a physical copy of the CD while they last.