Jun 20, 2022
Live podcast from Conjuration 2021. You will learn how I became a podcaster, how I moved from Renaissance festival musician to science fiction conventions. You'll find out what crazy things I sang in college.
It's Pub Songs & Stories #255.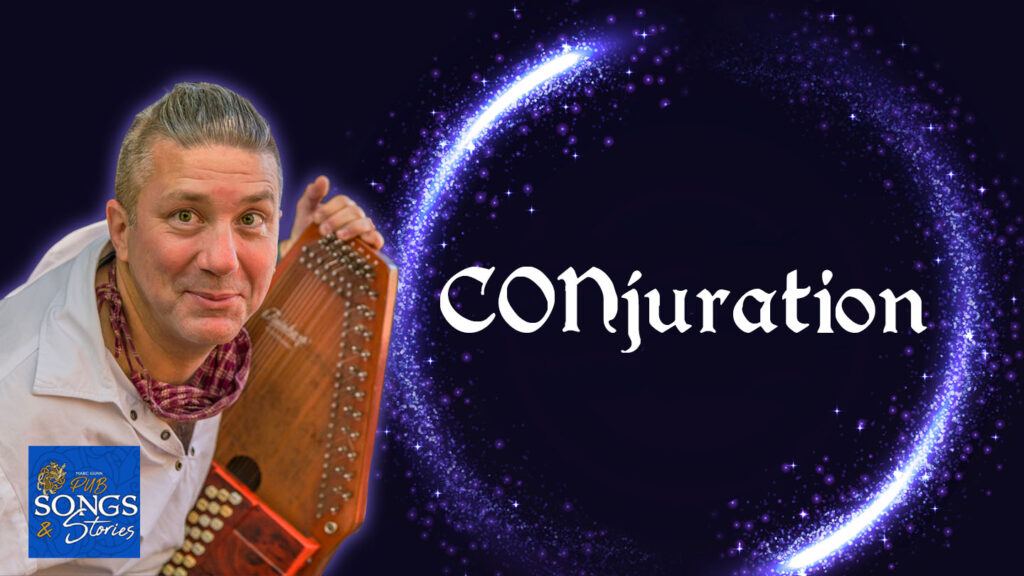 PUB SONGS & STORIES
Welcome to Pub Stories. Do you want to know more about the song I play? This is the audio liner notes for you to get to know more about me and my music. But also to find out how the song relates to your life
0:43 - THANK YOU GUNN RUNNERS
But first, Pub Songs & Stories is a podcast brought to you by my Gunn Runners on Patreon. The public version of his show is released on the first Monday of each month starting in August. There will, however, be a private version. It will come out two weeks after the public one, exclusively on Patreon.
If you're looking for Stories from other Celtic bands, like we had in episodes last year, then be sure to subscribe to the Irish & Celtic Music Podcast.
If you enjoy my music or this podcast, please sign up on Patreon. You'll get this podcast, podcasts from my travels, be able to download songs featured in this show, get sheet music, and access to Coffee with The Celtfather concerts. You get a lot for as little as $5 per month. And you can save 15% with an annual membership.
Thanks to my newest Gunn Runners on Patreon: Ivan MacKillop
1:07 - UPCOMING SHOWS
JUN 24-25: Magic City Con, Birmingham, AL
JUL 1-4: InConjunction, Indianapolis, IN
JUL 7: Dragon Con Filk Concert with Brobdingnagian Bards
JUL 8: High Card Brewery, Tucker, GA @ 6:00 - 9:00 PM ET
JUL 9: Ironshield Brewing in Lawrenceville, GA @ 7:00 – 10:00 PM.
AUG 4-7: Gen Con, Indianapolis, IN
AUG 19: Ironshield Brewing in Lawrenceville, GA @ 7:00 – 10:00 PM.
SEP 1-5: Dragon Con, Atlanta, GA with Brobdingnagian Bards
SEP 10-11: Middle Tennessee Highland Games & Celtic Festival, Hendersonville, TN
SEP 28-OCT 2: Hobbit Band at ALEP in Shakertown, KY
1:58 - WHAT'S NEW?
Kickstarter coming in August
02:06 - LIVE STORY AT CONJURATION
03:38 - Star of the County Down
11:49 - Irish Ballad
15:08 - Poisoning Pigeons in the Park
18:40 - O'er the Way
23:10 - Happily Ever After
28:58 - Jedi Drinking Song
34:17 - Don't Go Drinking With Hobbits
40:28 - Blink
44:30 - Name on My Soul
49:51 - I WANT YOUR FEEDBACK
You can download a copy of "Happily Ever After" in the Gunn Runners Club on Patreon.
What are you doing while listening to Pub Stories? I'd love your thoughts and feedback. So take a picture of yourself or where you are or what one of these stories reminds you of. Post it on social media. Use the hashtag #pubstories so I can find it and share your story.
Thanks for listening to Pub Stories. The show was produced by Marc Gunn, edited by Mitchell Petersen with graphics by Miranda Nelson Designs. You can subscribe and listen wherever you find podcasts. You can also subscribe to my mailing list. You will get regular updates of new music, podcasts, special offers, and you'll get 21 songs for free. Welcome to the pub at www.pubsong.com!
#pubstories #conjuration2022 #harrypotterconvention