Feb 14, 2022
Eamonn Flynn shares a story about what he missed from home during the pandemic. Is streaming music good or bad? What does "buy local" mean anyway? How treating people with loyalty, kindness, and respect can heal open wounds. We'll talk about two new CDs. It's a CD Release Party on the today's Pub Songs & Stories #249.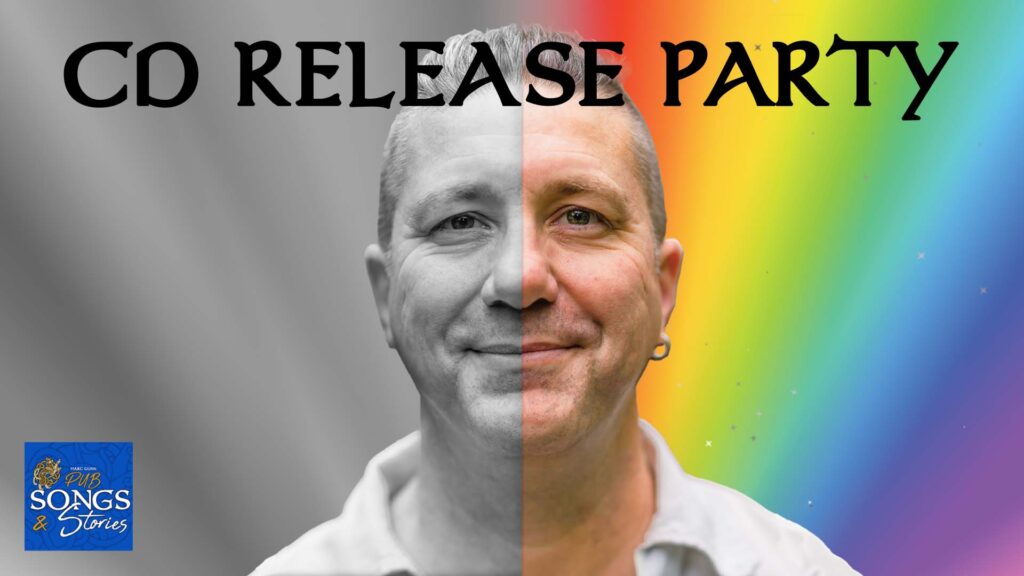 WHO'S PLAYING IN THE PUB TODAY
Welcome to Pub Songs & Stories. This is the Virtual Public House to share stories and inspiration behind music with your host Marc Gunn. Subscribe to the podcast and download free music at
PubSong.com
.
0:34 - WHAT'S NEW?
Today's show is brought to you by my Gunn Runners on Patreon. I want to thank my Superheroes on Patreon: Not Higgins, C.J. Taylor, Sarah Crockett, Bill Mandeville, William McKissack, Carol Baril, Kathleen & Luke Miller, LauraMay Sorkin, Eric Ray.
Selcouth is now on sale! This is my 24th solo studio album. I am so excited to share it with you. In fact, I did a livestreaming listening party on Friday on Facebook. I'm doing another one at 1 PM EST today. Then on Wednesday, I'm gonna play songs from the album live on YouTube.Then on Thursday is my official online CD Release Party for Selcouth. It's happening on Bandcamp. It's free! And there will be a giveaway. So please plan on joining me on Thursday, February 17.If you have the album or you streamed already, I would LOVE to know what YOU think of Selcouth or what's your favorite track on the album. Make sure you hashtag it with #selcouth when you post on Social Media. And tag me!
What are you doing while listening to Pub Songs & Stories? I'd love your thoughts and feedback. So take a picture of yourself or where you are or what one of these stories reminds you of. Post it on social media. Use the hashtag #pubstories so I can find it and share your story.
2:54 - We Banjo 3 "Wynne's" from Roots to Rise
6:47 - NEW TO IRISH & CELTIC MUSIC: BEST OF 2022 PLAYLIST
There's new music on the Best of 2022 playlist. I added Gerry O'Connor, The Canny Brothers Band, The McDades, yours truly and We Banjo 3. These are from episodes #540 and #541.
Listen Best Irish & Celtic Music of 2022 on Spotify or Listen on Amazon Music.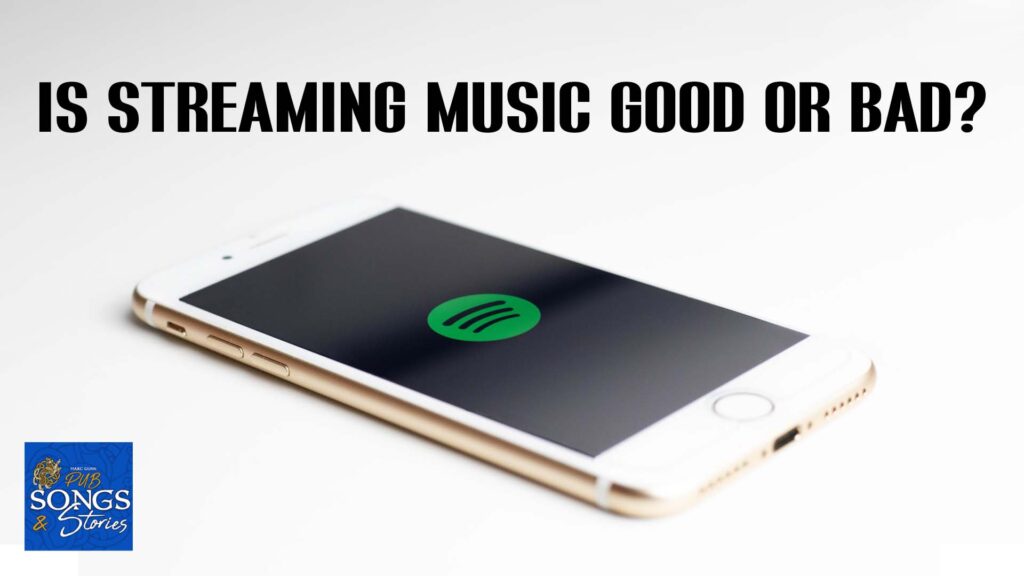 7:19 - WHAT'S UP WITH STREAMING MUSIC?
The Gothard Sisters responded to a question in their mailing list about streaming music sites. The question was basically, is streaming music good or bad?
I answered that question back in 2018 on my Celtfather podcast episode "Yes! Please Listen on Spotify". But that was four years ago. So I thought I'd address it for 2022. Let's start by looking behind the streams.
First, does Spotify pay artists?
Technically, yes. They do. But it is a pittance. We get paid about ½ a cent for every stream that lasts at least 30 seconds. I've heard. Personally, I get about 2500 listens per month. That's about $12. During Christmas, that goes might climb to about 11,000 streams or a whopping $55. It's not much.
Does it upset me that I get paid so little?
No. I LOVE streaming.
I love it because it's a brilliant music discovery tool. If I hear about a new band, I will go there and listen to their top tracks. I'll check to see if they have music that would work for the Irish & Celtic Music Podcast.
I listen because it's quick and easy. I don't always have my computer on hand. So this lets me find and enjoy new music with minimal effort. As long as I realize I'm not gonna get paid, I'm all good.
Plus, there's always the hope that you will add my music to one of your playlists. Perhaps that playlist will be followed by others. Next thing you know, a song gets more popular. Thus far, it's only happened with my Christmas music. But it's a start.
So how do I and other musicians make money?
There's the big question. For me, it starts with education. That's the reason I tell you in every episode of both this and the Irish & Celtic Music Podcast to support the artists. If you find an artist you really love then, buy their stuff. CDs are still great mementos, even if you don't listen. Shirts are great for showing others how much you love the artist's music. I'm starting to offer lapel pins to go with various albums as a small artistic alternative to show your colors.
You can support the artists by tipping them. Spotify added a tipping function on their website. All of the money you tip goes straight to me. I've heard of a few bands who are killing it through this method.
Bandcamp makes tipping extra easy. I have a Livestreaming CD Release Party scheduled for this Thursday, February 17. Since it's a CD Release, the show will be free. But you can choose to pay any amount for the show. You can also buy a CD or lapel pin while you're watching the show.
And of course, I am also a member of a few Patreon pages, like The Gothard Sisters. Because I want to help them keep making new music.
The last thing I wanted to say was the third item in The Gothard Sisters newsletter, titled "What We're Doing: A Rising Tide".
"One of the things I love about creating playlists on streaming services is that we can include some of our other favorite Celtic, folk and world musicians, along with our own music. Every person who streams the playlist then discovers new artists that they may not have found otherwise. We absolutely love being able to help promote other artists this way."
I love this. This is one of the reasons I publish Pub Songs & Stories and the Irish & Celtic Music Podcast. I get to help musicians be heard. But I can also do that with my own playlists. I have dozens of playlists, mostly Celtic-based. Some are Firefly inspired or Star Wars, Lord of the Rings or even cats. You'll hear a lot of my music. But you will also find music from other bands that I love.
You can find many of my playlists here.
12:15 - UPCOMING SHOWS
12:58 - Gerry O'Connor "The Old Dash Churn (Jigs)" from Last Night's Joy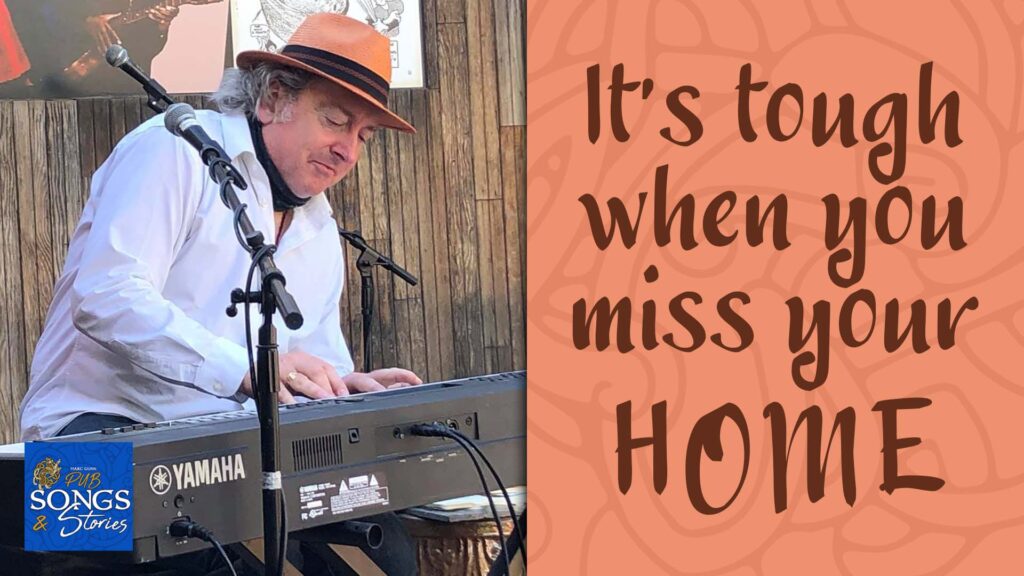 17:03 - STORY OF LIFE IN DUBLIN
Eamonn Flynn was born into a musical family in Dublin, Ireland. He first came to prominence playing Hammond organ and piano on the soundtrack for the movie, The Commitments. He has a brand new album coming out on February 25. Today he's debuting one of the songs for the album along with a story about life in Dublin.
22:24 - "Baile Átha Cliath" by Eamonn Flynn from Anywhere But Home
27:13 - SUPPORT WHAT YOU LOVE
The musicians on this podcast are happy to share their music freely with you. You can find their music on streaming music sites. But streaming is a way to sample the music. If you hear something you love, these artists need your support.
Please visit their website, sign up to their mailing list and buy something. You could buy digital downloads, a shirt, a sticker, a pin, a songbook, jewelry, or even the classic physical CD. Your purchase allows them to keep making music. And if you're not into the physical stuff, many artists accept tips or are on Patreon. So please support the arts.
If this show made you happy, then you can also join the Gunn Runners Club on Patreon. Your support pays for the production and promotion of my music and this podcast. If you have questions or comments, drop me an email. Save 15% with an annual membership.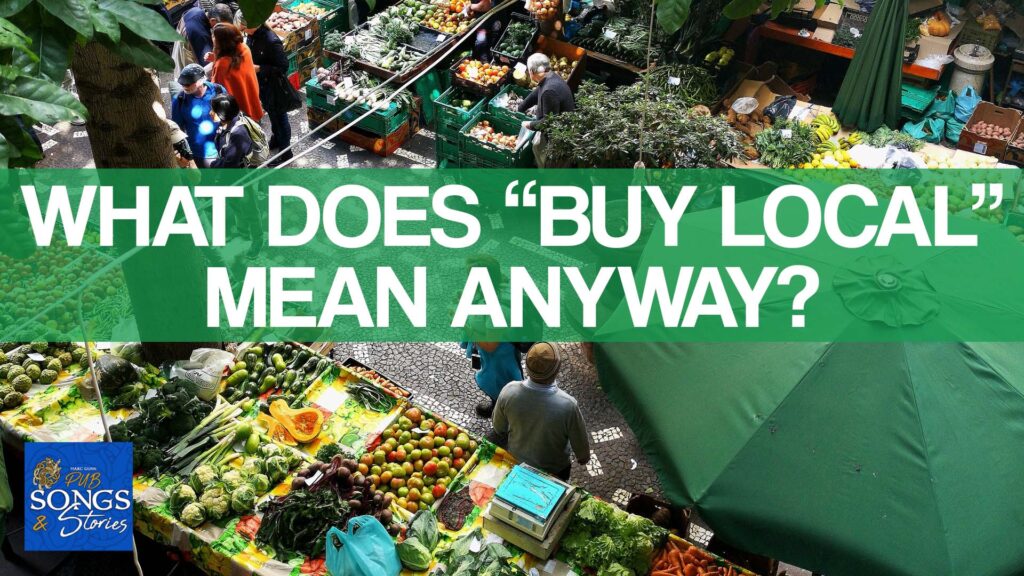 28:04 - STORY OF GOING LOCAL
Before I share my story, I want to do something new.
I was living in Austin when I first heard the term "Buy Local". Over the last few years, that phrase has meant a bit more to me. That's because our world has grown. The internet with all of its opportunities for us to share have made it less personal.
I was reading about the demise of local news. As much as I hated holding physical newspapers, I realize we need local news. It connects us with our community.
I remember my family in East Texas looking out their window. My uncle would shout out to my grandma, "Gerry just drove by. I wonder where he's going?"
At the time, I thought it quite quaint and odd. But they lived out in the country. This was one of his ways of connecting with the community.
I want to do the same. I want to share and promote my local community. Now of course, local and community can have different meanings than the obvious one. But today, I want to promote my first regular venue here in the Atlanta area–The Lost Druid Brewery. Not only did they come up with the phrase Sci F'Irish music, but they also did a lot for getting me started in the Atlanta area.
I finally sat down with the owners Stacia and Rob, the brewmaster, with a recorder to talk about The Lost Druid and to share my love for this local community brewery.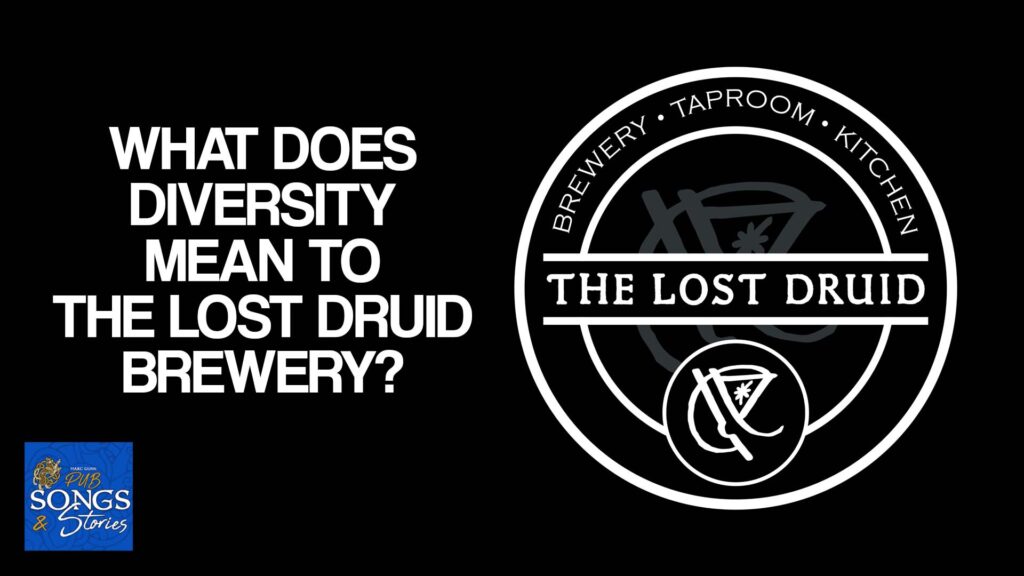 29:50 - DIVERSITY OF THE LOST DRUID
You can find out about The Lost Druid on their website at thelostdruid.com. You can see me perform there this Saturday, February 19, 2022. And stay tuned for more of these features of them and others in my local community in episodes to come.
31:42 - STORY OF BREATHING
My favorite episode of Firefly is "Out of Gas". In the episode, the crew is taking their time getting to the planet Greenleaf, the third planet in the Red Sun system. Yeah, I looked that up for the heck of it. As they're out in the Black, a compression coil blows out which knocks out life support. The crew decides to board the two shuttles and try to get help.
I love the episode, because it offers a lot of character development. We see scenes from when Malcom and Zoe first buy the ship. We learn about the sexual appetite of Kaylee. We discover the moment that Inara rents the shuttle from Mal. We learn that Zoe didn't like Wash when they first met and how Jayne is lured to switch sides during a heist. It's a massive episode.
You can hear a more detailed synopsis in the 8th episode of the In the 'Verse podcast. Mikey Mason and I share our themes that inspired us while watching that episode. One of those themes became my song "Breathing".
There's a great line at the beginning of the episode during one of Malcolm's flashbacks. "Treat her properly. She'll be with you for the rest of your life," says the man trying to sell a spaceship to Mal.
On the surface, the song is about treating people with loyalty, kindness, and respect. But there's a bigger story. It's about a couple who's having a tough time. Much like the broken engine in the show, they're having problems. But with love, patience, loyalty, and of course breathing they pull through.
Meditation is something that helps me a lot. I get overwhelmed quite easily. What helps me when I have trouble focusing and pulling things together is to keep breathing. It relaxes me and makes me stronger. My hope is that next time you're feeling a little stressed that you too take a deep breath and sing along.
33:58 - NEXT TIME
34:14 - Marc Gunn "Breathing" from Selcouth
Liesel Wilson rediscovers her Welsh heritage with Welsh tunes and a story. Marc Gunn shares the story behind the famous Scottish song "Loch Lomond".
Pub Songs & Stories was produced by Marc Gunn. The show is edited by Mitchell Petersen with graphics by Miranda Nelson Designs. You can subscribe and listen wherever you find podcasts. You can also subscribe to my mailing list. You will get regular updates of new music, podcasts, special offers, and you'll get 21 songs for free. Welcome to the pub at www.pubsong.com!
#pubstories